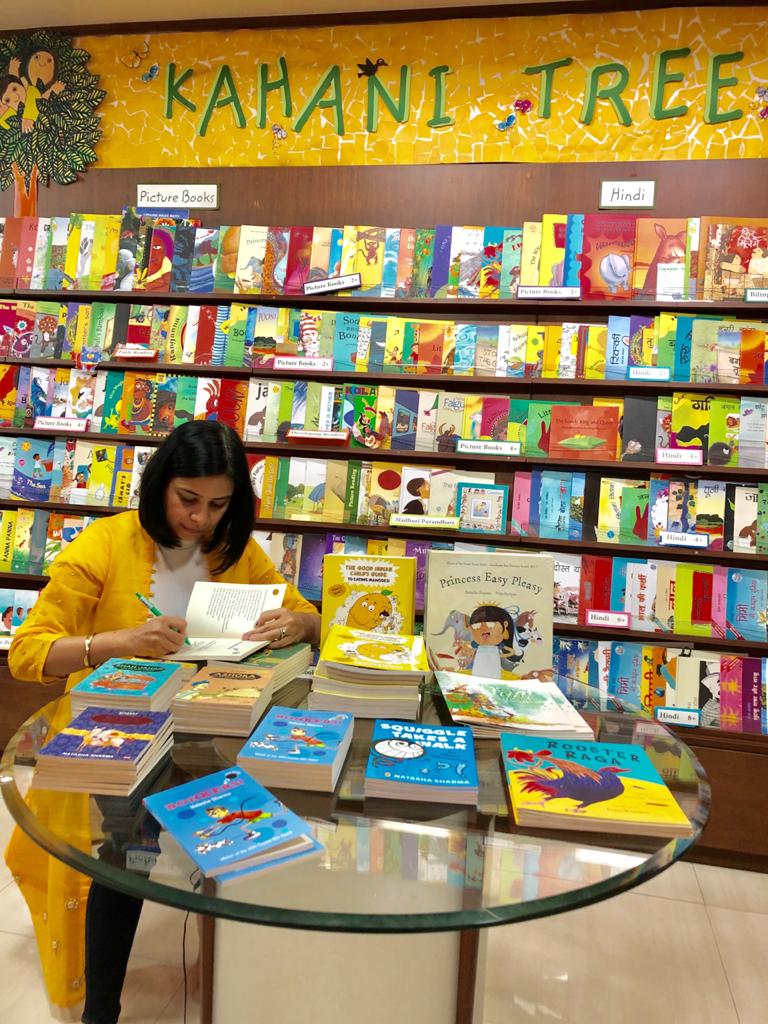 KAHANI TREE AND ME!
I first met Sangeeta who runs Kahani Tree at my children's school book exhibition, many years ago (which doesn't make either of us a day older than the children in the books we love). She was flitting around recommending books, sharing a squeal with a child over a book they found and loved – all the things she and her team continues to do today, whether at an exhibition or in her store. In the midst of that, she stood with me as I spoke to her about my plans to write, my first drafts of Icky, Yucky, Mucky and looking for a publisher. The encouragement she gave me back then has never changed and I cannot thank her enough for being the rock she has been through the years. If you want to chat with people who know their books, I can't think of a better place to begin than here!
This series on independent bookstores had to begin with Kahani Tree! Thank you for such delightful answers! Over to you, Sangeeta!
WHAT MAKES KAHANI TREE SPECIAL
Kahani Tree is the only exclusive children's bookstore in Mumbai! 
Our book collection includes a curated range of diverse and multicultural books as well as unusual, award-winning 
international titles. We are proud to promote books by over 25 independent Indian publishers, including the non-profit publishers who publish in the regional languages.  On Saturdays, we host book-events for children, which include author interactions and storytelling sessions.  We also conduct workshops for parents, educators, librarians and others working with children.
Our team prides itself on having read most of the books in our store, and we love sharing our excitement about stories with our customers. There is nothing like the satisfaction of finding just the right book for the right reader!
At Kahani Tree, we believe that stories are magical, and that a love for books and reading is the best gift one can give a child!
GET TO KNOW KAHANI TREE, BETWEEN THE PAGES!
FUNNY INCIDENTS IN THE STORE!
When Sanobar was narrating the story of 'The Lion's Feast' during our Friday Story Hour, little Sahana jumped into her mama's lap when the lion came roaring along!
Aabir, one of our favourite little people,  is lavished so much attention when he visits the store, that the poor dad who accompanies him is often left to his own devices!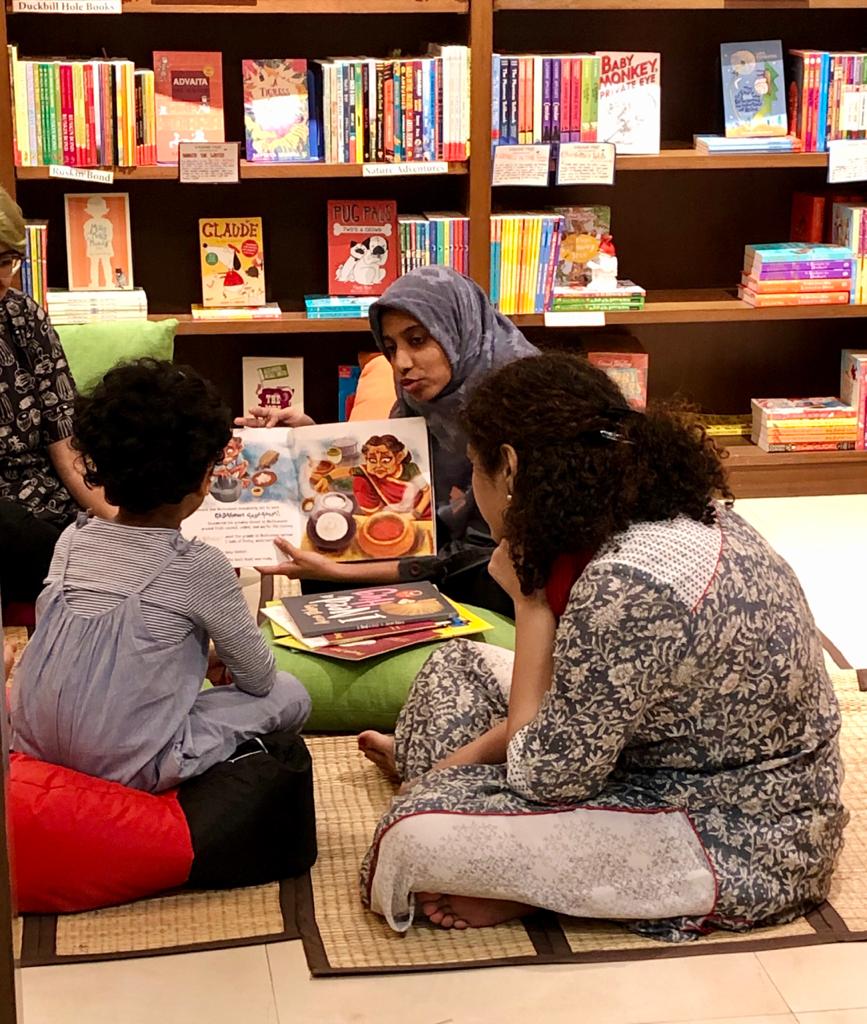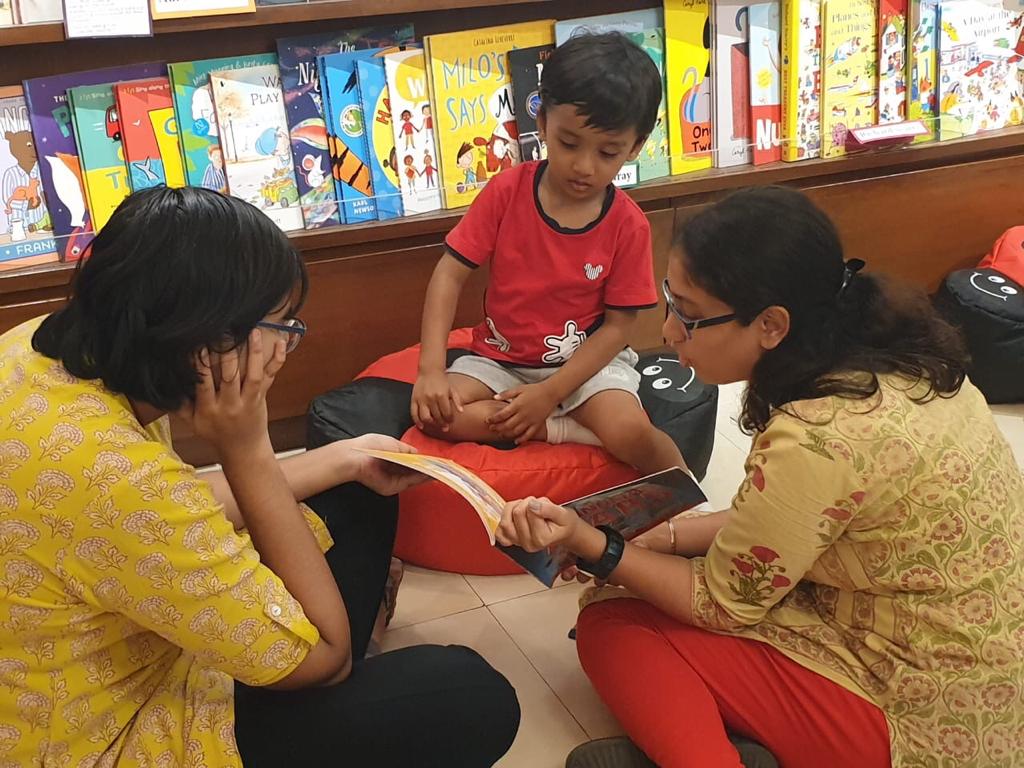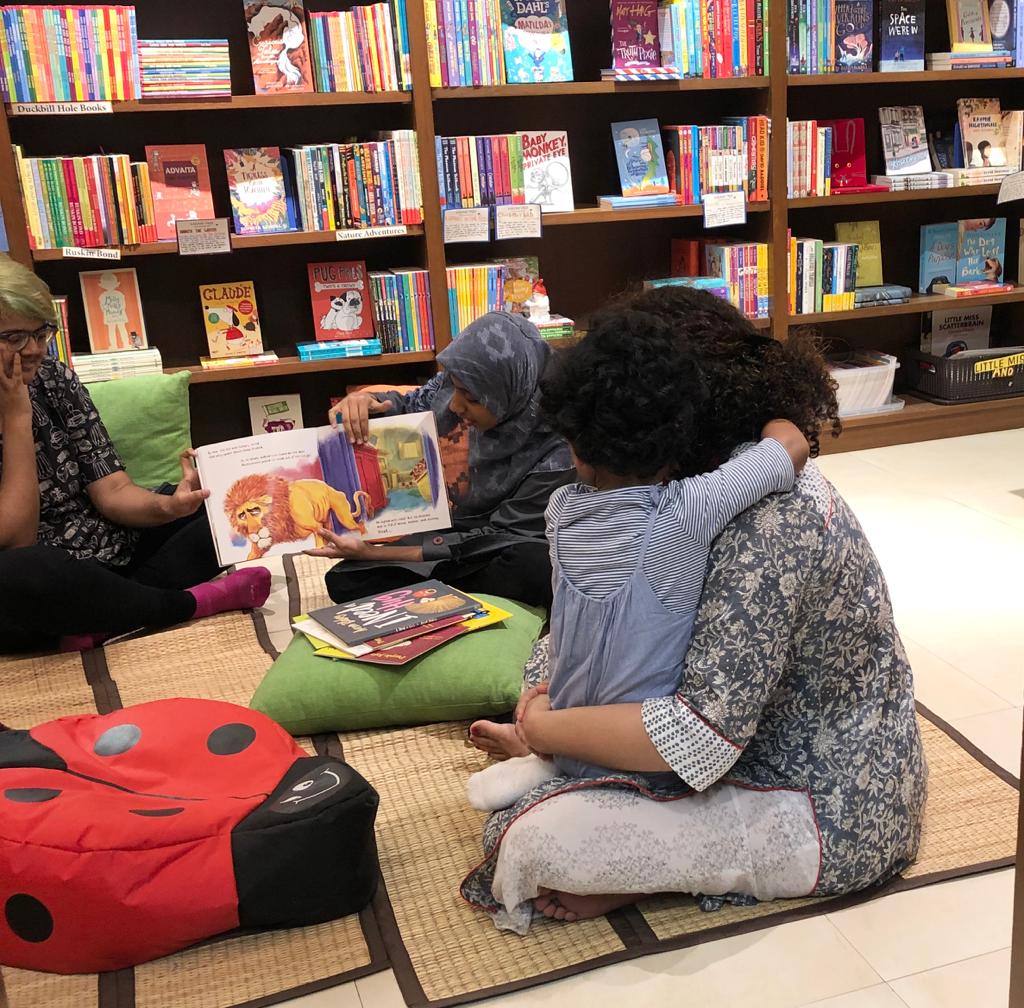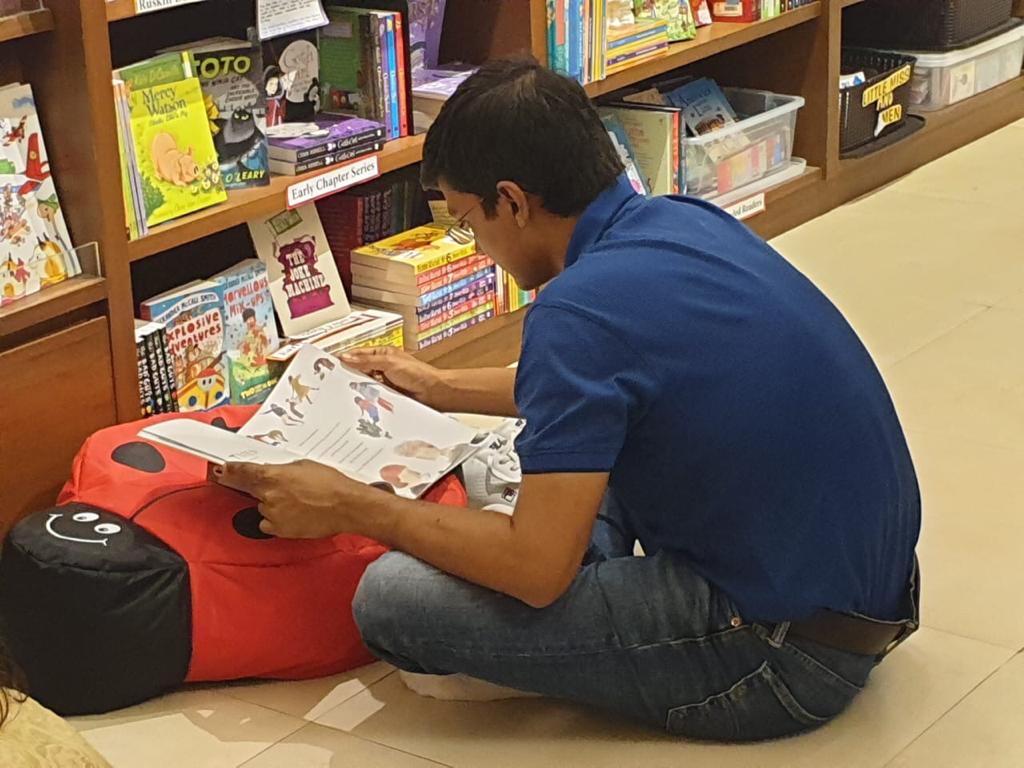 KAHANI TREE'S COSY NOOK!
Click on the right to see our lady bug cushions holding so many stories!
BOOKSTORE MOMENTS THAT MADE US WANT TO HUG OURSELF WITH JOY!
1: Our Sanobar wearing bunny ears and telling the story of 'Guess How Much I Love You?'
2: Author Timira Gupta showing the treasures collected during a walk. The book 'Pishi and Me'
3. Students from a government school, happy to receive their own author-signed copies after an interaction with Ken Spillman.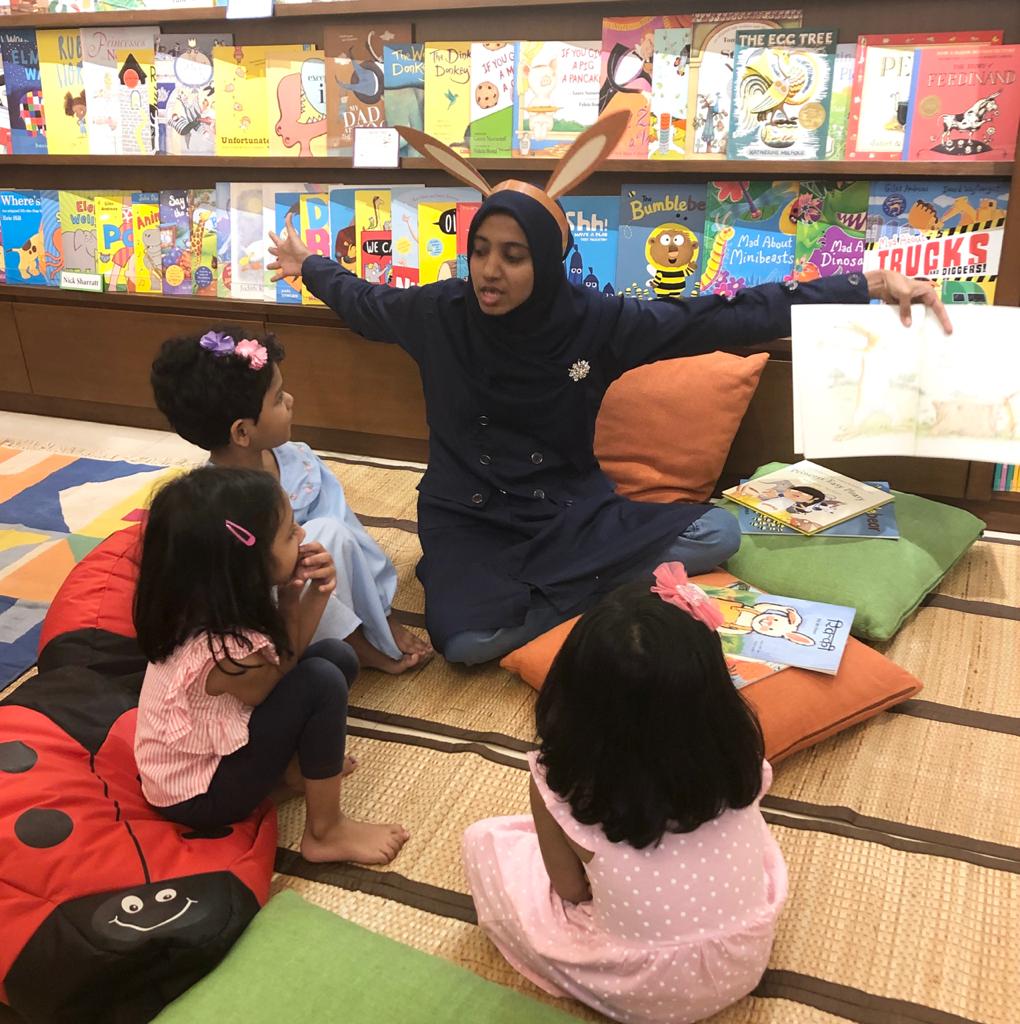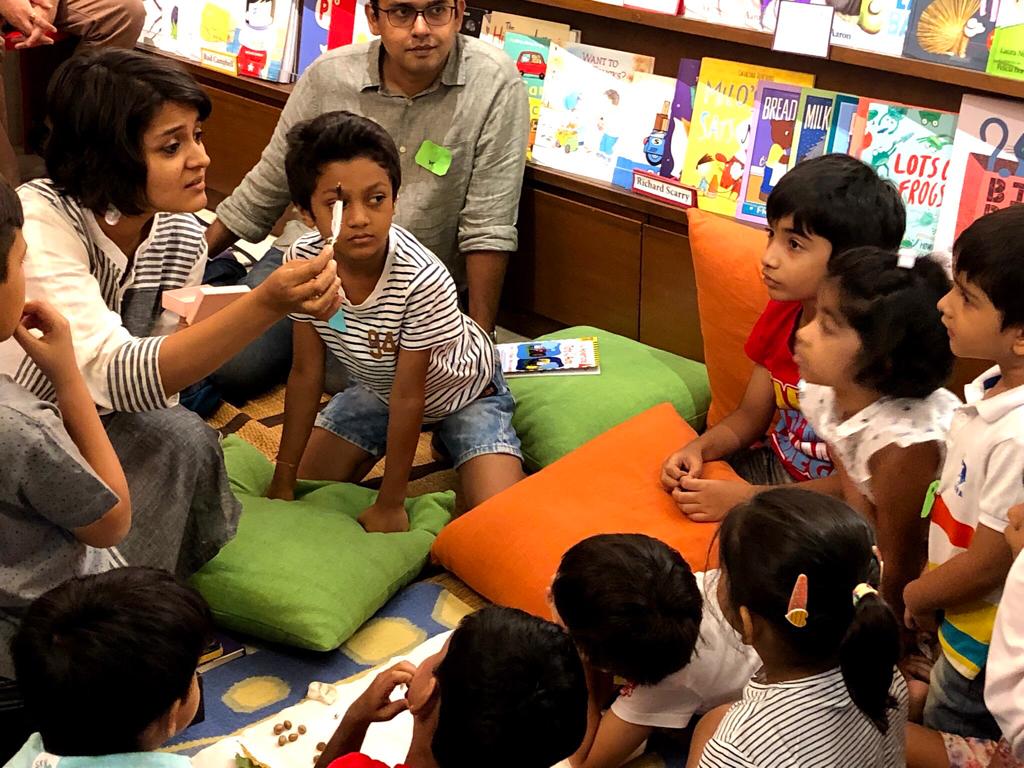 A NEVER-DO-THIS-IN-A-BOOKSTORE PIECE OF ADVICE
Post-story messy play activity for little toddlers: 
Never ever play with honey in a bookstore!  Maybe very fun, but nerve-wracking for us.
The book about a bear called Hugless Douglas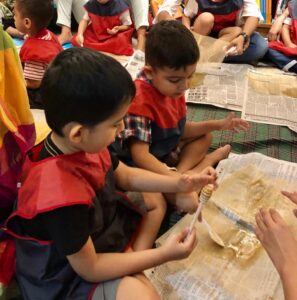 TOP 5 FAVOURITE CHILDREN'S BOOKS IN STORE AT THE MOMENT
(Ufff. So difficult.)
– Gajapati Kulapati Kalicha Kulicha by Ashok Rajagopalan (Tulika)
– Kaisa Kaisa Khana by Prabhat (Ektara)
– Stormy by Guojing (PRH)
– El Deafo by Cece Bell (Abhrams)
– The Myth Atlas by Thiago de Moraes (Scholastic)
KAHANI TREE REGULARS!
Sahana, one of the best story listeners in the world, and has an insatiable appetite for stories. Aabir, who asks a million questions, often ones that we are unable to answer. Calvin, who's reading a Calvin and Hobbes here. Sahej and Yug, at the store.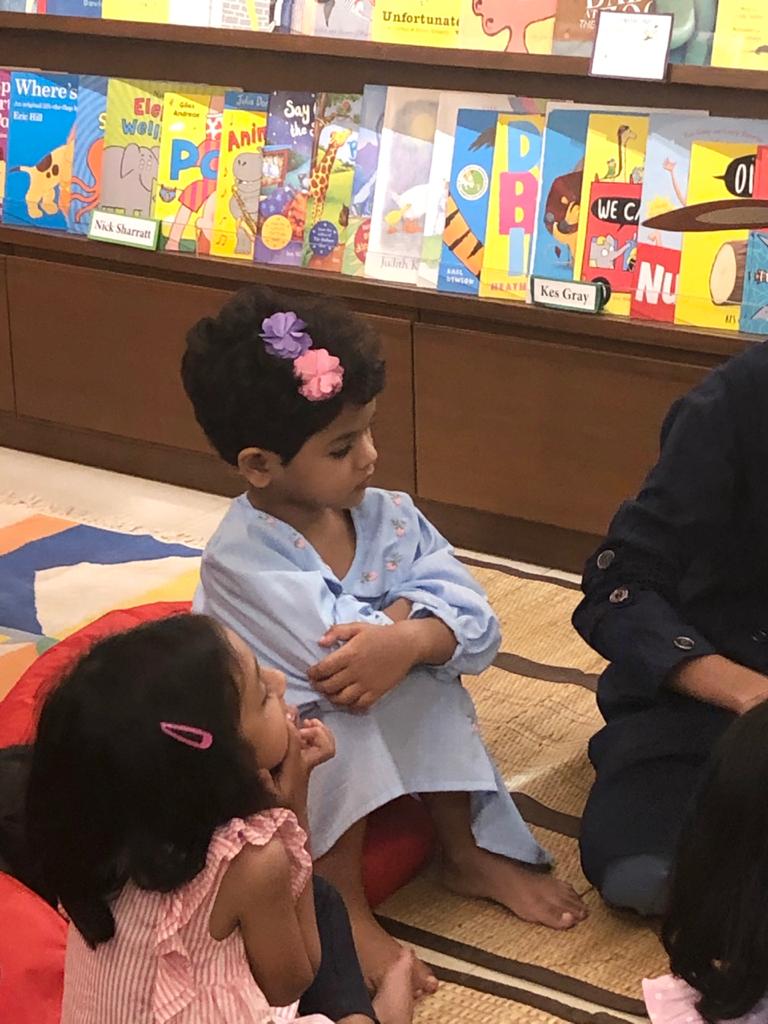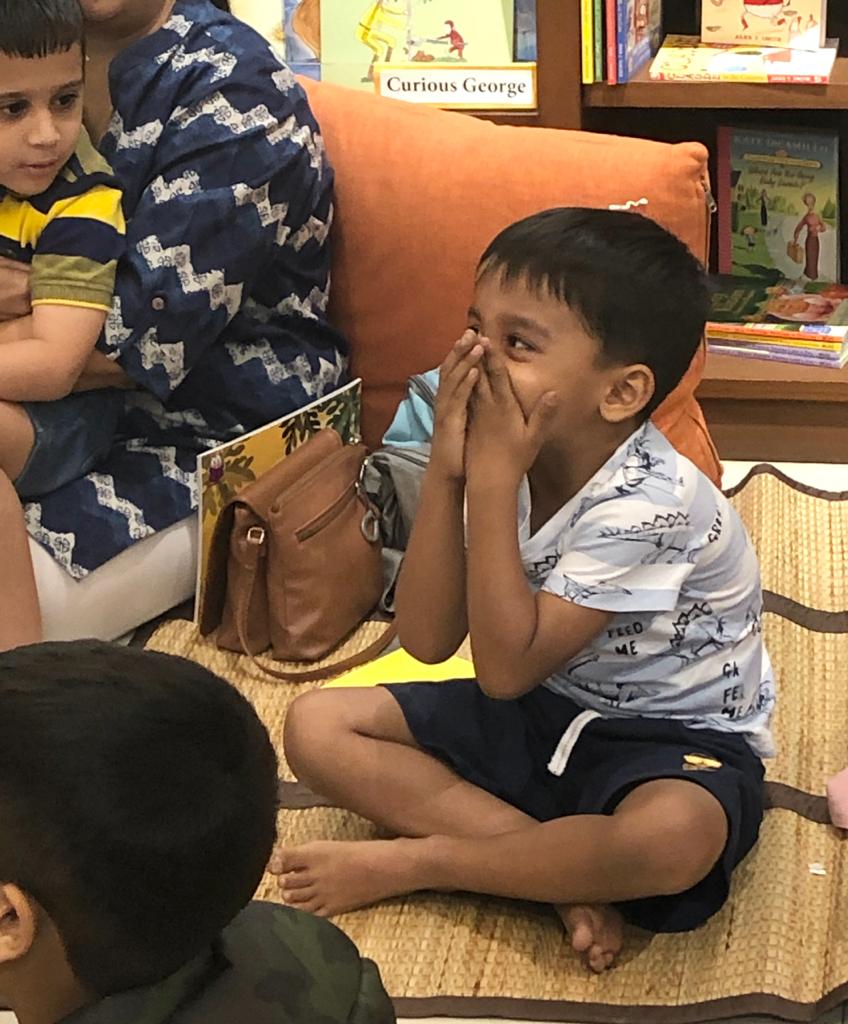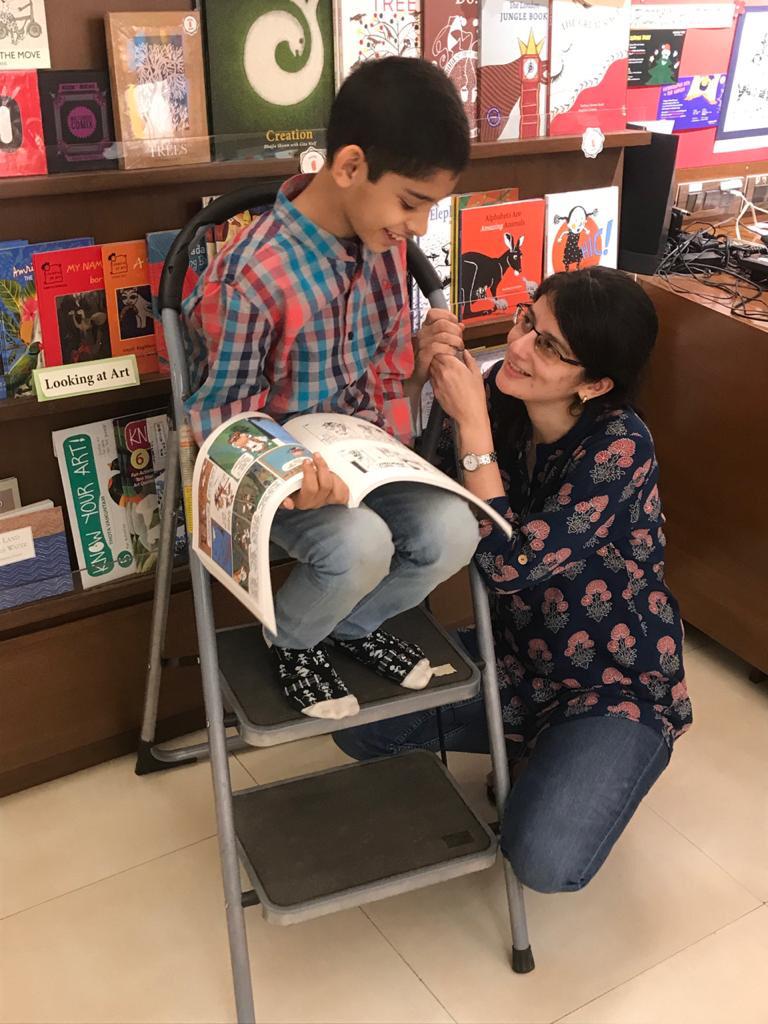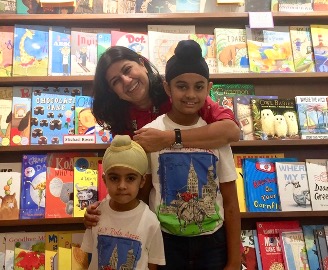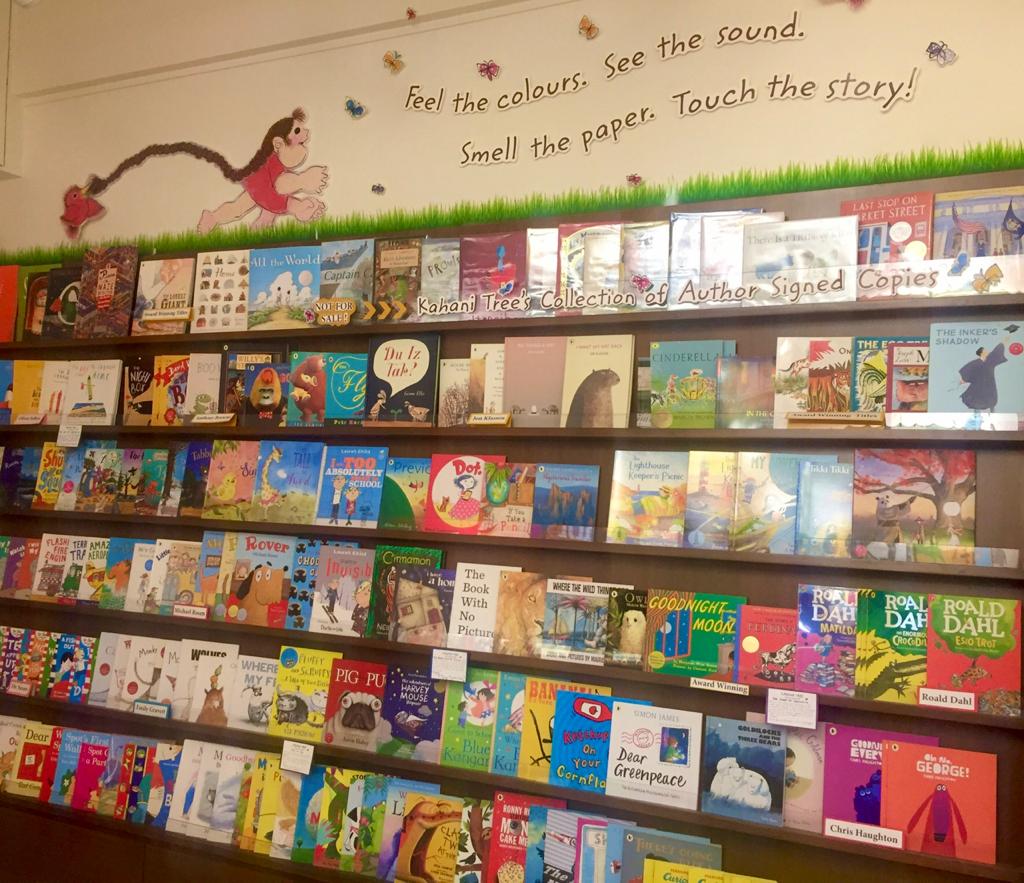 THE STORY BEHIND THE STORE!
Almost fifteen years ago, Kahani Tree began with a wish: as a parent to young readers, Sangeeta Bhansali (who created the space) wished to find contemporary, fun and well-written Indian literature for her children, which was difficult to come across in the city's retail space. However, when she did, she was determined to make this treasure trove of English and regional language books accessible to other children in the city. So she approached her children's school, among others, to diversify their book weeks and book fairs. Slowly and steadily, from a single wall in her publishing office, Kahani Tree grew into a children's bookstore.
It has been a joy and privilege to not only widen the reach of Indian literature within urban Mumbai, but also reach children from all manner of background, in remote and rural parts of India.
Kahani Tree
Industry Manor, 2nd floor, A Marathe Marg,
Prabhadevi, Mumbai 400 026
(near Century Bazaar, same building as Saffron Art and JK Banquet Hall)
Landline: 022 24306780 (extn: 238/239/240)
Whatsapp: +91 22 2430 6780
Email: [email protected]
What's the furthest you've made a book travel to reach a reader?
Most recently to Kashmir and Tripura, but often across the oceans to Singapore and the U.S. as well!
Are you open for business at the moment?
Yes, we are open for book deliveries across Mumbai, India and the world!
Please email us at i[email protected] or Whatsapp: +91 22 2430 6780
All the images here have been provided by Kahani Tree, Mumbai