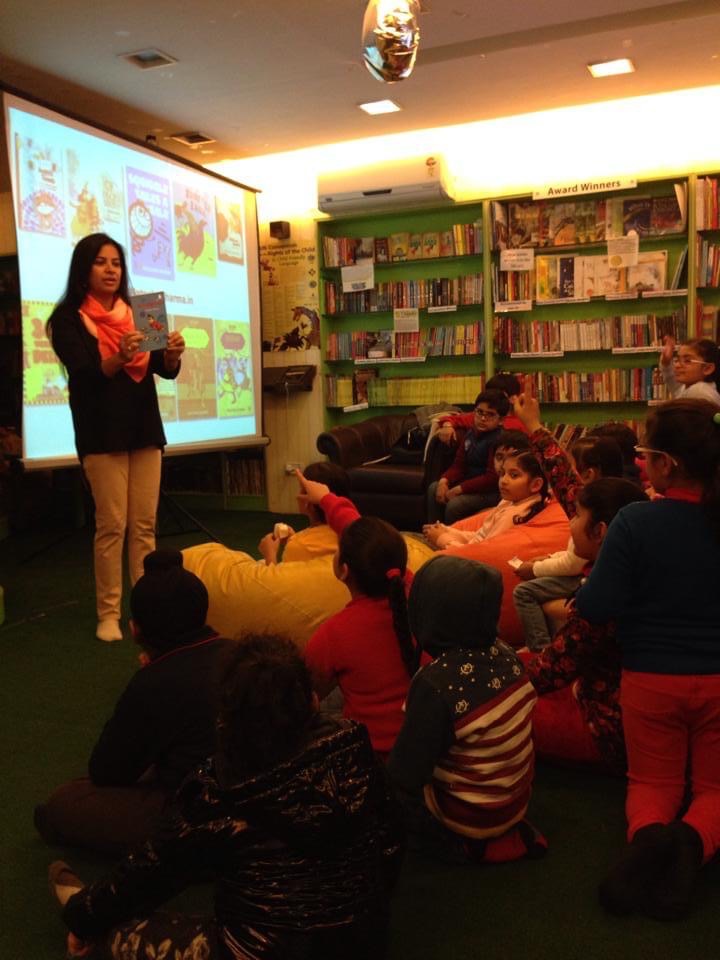 ONE UP AND ME!
'She's like Shah Rukh Khan in children's books. Get into line quickly for an autograph, WITH A BOOK OF HERS IN HAND,' Dalbir told the children in the store. While I was trying very hard to keep a straight face, Dalbir was in many places at once. A whirlwind of energy and an incredible passion to raise readers, Dalbir is a bookstar!  
I distinctly recall the way my heart leapt with joy when I walked into One Up in Amritsar, where the bookstore first began before moving to its current location in Delhi (that's me in the Amritsar store). Dalbir was like the book fairy godmother I had always wished for, growing up in Amritsar! The store there, and an even more expanded form of it now in Delhi, is all the wonderful things a bookstore should be! A diverse, well thought through selection of books and children snuggled away in various corners, a book in hand.
She's been an amazing champion and I am delighted to have her here for insights into her collection and fun moments within One Up's walls. 
WHAT MAKES ONE UP SPECIAL
Founded by educator and literacy specialist Dalbir Kaur, ONE UP Library, Bookstore & Learning Lab,opened its doors in Amritsar, India in April 2011. In the year 2017, One Up shifted its base to Delhi, with the hope and aspirations to create a dedicated space for children books.
Our bookstore showcases children's books that are curated for expanding personalized choices and broadening readers experience with books and reading. We offer books as "windows" and "mirrors" to readers ever expanding needs.
From curating books for our patrons, we offer services like individualized reading assessments, strategies and tools for parents and children to nurture their reading life, virtual reading program, both based on internationally accepted program and research and a children's library dedicated to celebrating the child and the reader.
Our collection, showcases a wide range of picture books, from recommendations for early developing readers to dormant and accelerated readers. Graphic novels, diverse books, unique themes addressed to social and political context are important to develop diverse taste for our readers. We believe that right, consistent and successive choices with book selection leads to building strong identity as a reader. At One Up we believe it takes a village to raise a reader, hence 12 books of Roald Dahl, 8 books of Harry Potter and 24 books of Percy Jackson are not enough to raise our children as readers and thinkers.
Our core services include guiding parents and readers on how to to the select books based on a reading choice menu is integral to our fabric. We believe each selection should help my readers to become more independent with their choices and empower them to be a book enabler and peer reviewer.
As a Literacy consultant, to most progressive schools like, The Shri Ram School, The Heritage School, Delhi & NCR, The Cathedral & John Connon School, Step By Step School, Nehru World School, Lotus Valley School and many others.
We extend our services towards curating rich classroom libraries, libraries and whole school training of teachers and parents for developing reading culture in the school. One Up prides itself on its collaborative relationships with international and national publishing houses, educators, libraries and authors.
GET TO KNOW ONE UP, BETWEEN THE PAGES!
YOUR EARLIEST MEMORY OF VISITING A BOOK STORE!
Visiting E.D.Galgotia in Connaught Place when I was six and from that day i dreamt of opening my own bookstore.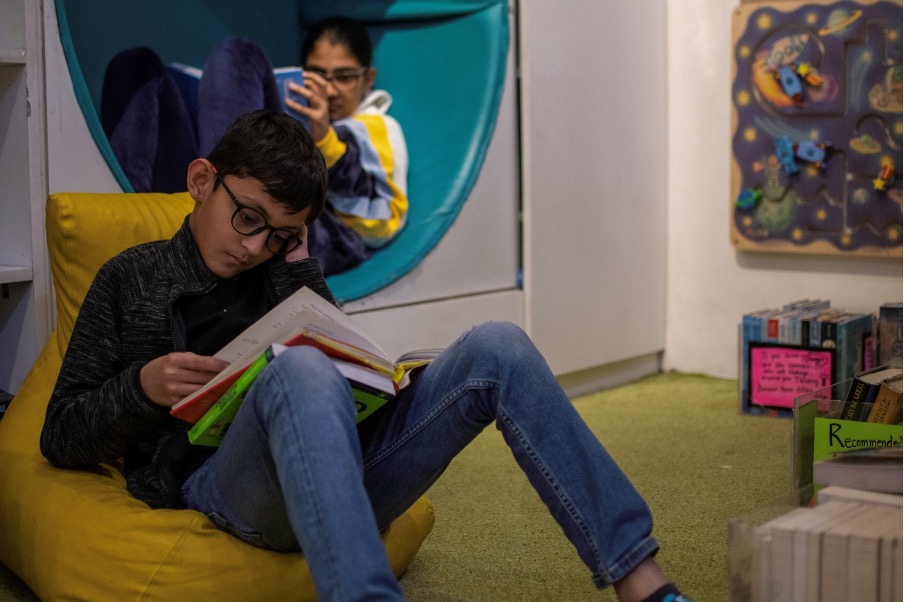 THE TOUGHEST REQUEST FOR BOOKS
My toughest selection is for Navya Banga in Mumbai, whose books I have been selecting since she was in Class 2 in John Connon and Cathedral School. As I select her books, now that she is in Grade 9, it is a pride to experience your readers outgrowing you in your reading life.
A FUNNY INCIDENT IN-STORE
I clearly remember as I read the book, "The Carrot Seed" by Ruth Kraus to a eighteen month old baby, the child laughed and gurgled. Funnily every time, I stopped reading he would give a loud whimper to express his displeasure. I must have read the book twenty times before the mom was able to distract the baby.
A BOOKSTORE MOMENT THAT MADE YOU WANT TO HUG YOURSELF WITH JOY
A ten- year child who was labeled as reluctant reader said "I can read books only from One Up". That was an Ahah! moment for me.
ONE UNEXPECTED SURPRISE WITH RUNNING A BOOK STORE
Unexpected and surprising, has been the realization to work under the challenge of being poorly networked independent women who manages rigor with her selection, dreams and research about reading with business of selling and sales.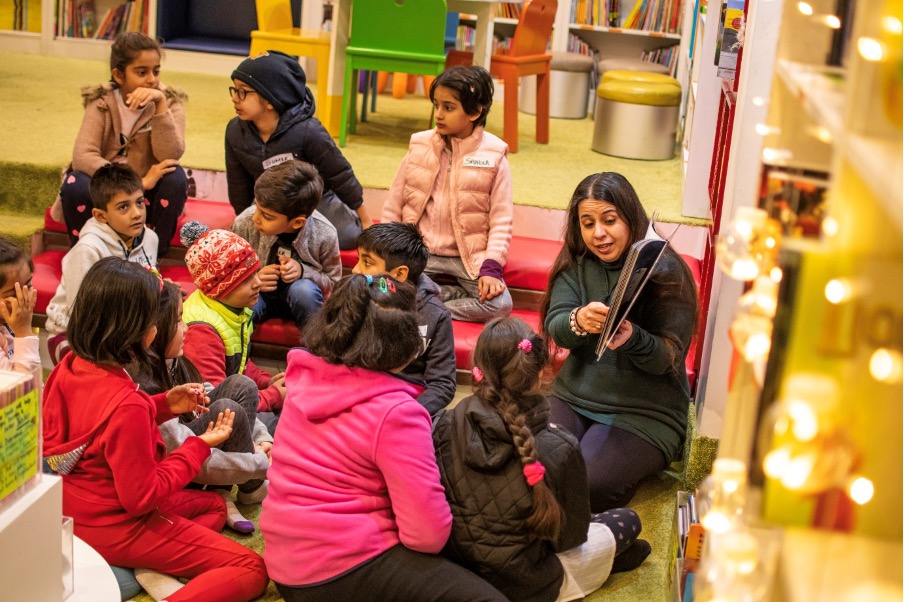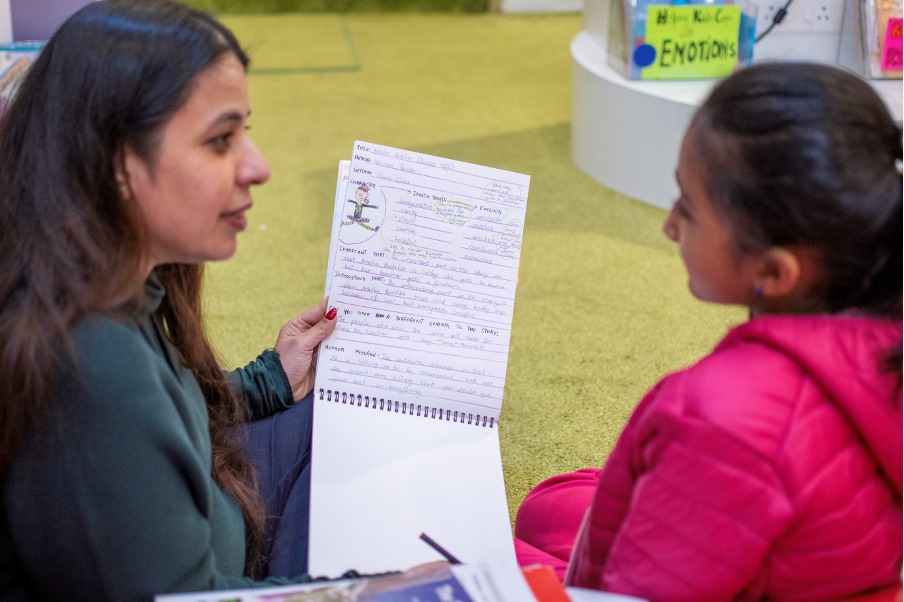 A NEVER-DO-THIS-IN-A-BOOKSTORE PIECE OF ADVICE
My advice to myself when I created One Up was under no pressure, we will ever sell anything but books. We have never sold stationary, any book that has not matched our rubric, we have never sold any books that has any TV character or disney promotional books. We live breathe only children books.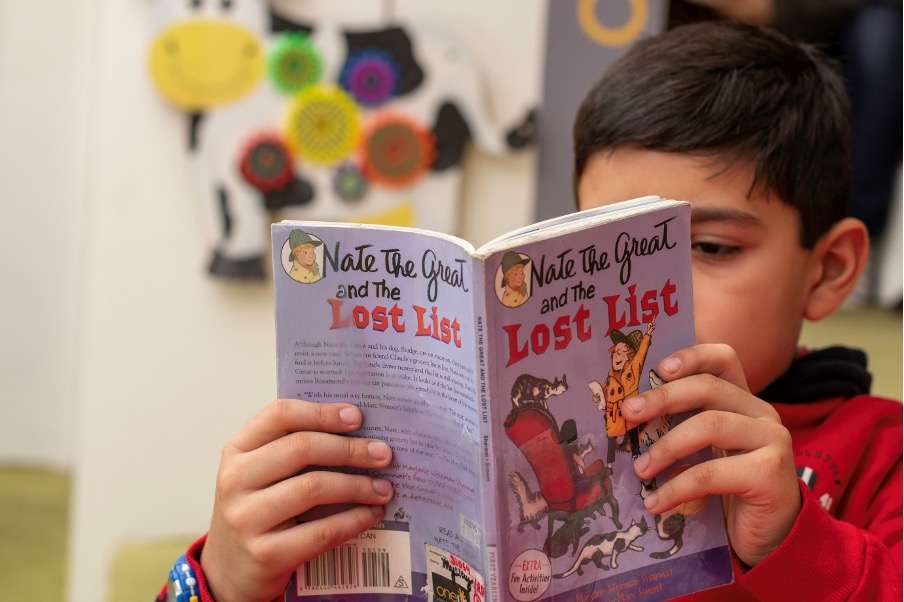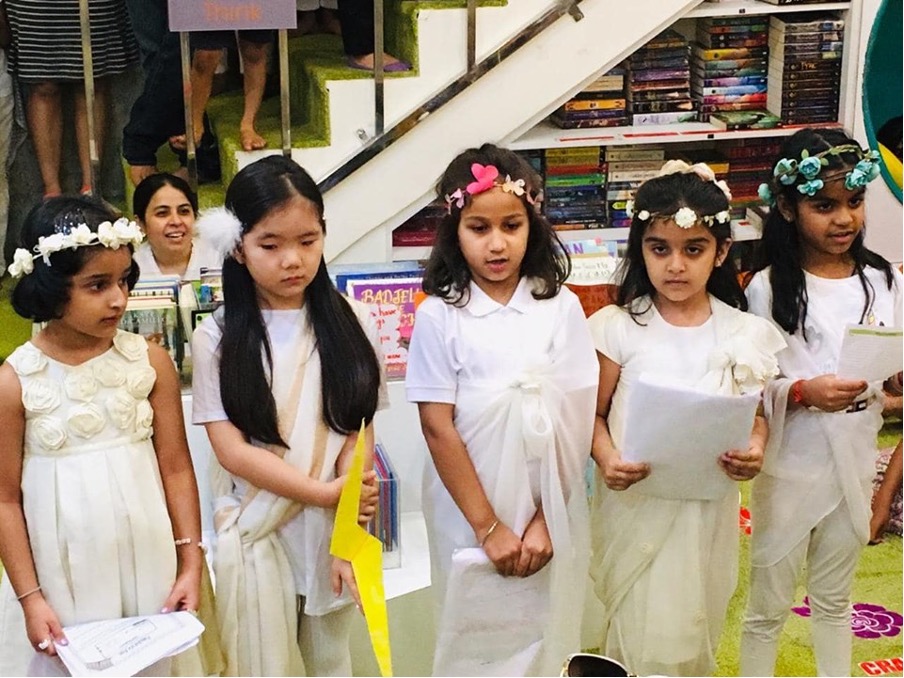 TOP 5 FAVOURITE CHILDREN'S BOOKS IN STORE AT THE MOMENT
American as a Paneer Pie by Supriya Kelkar
Dragon Hoops by Gene Luen Yang
One and Only Bob by Katherine Applegate
We Dream of Space by Erin Entrada Kelly
Stamped by Jason Reynolds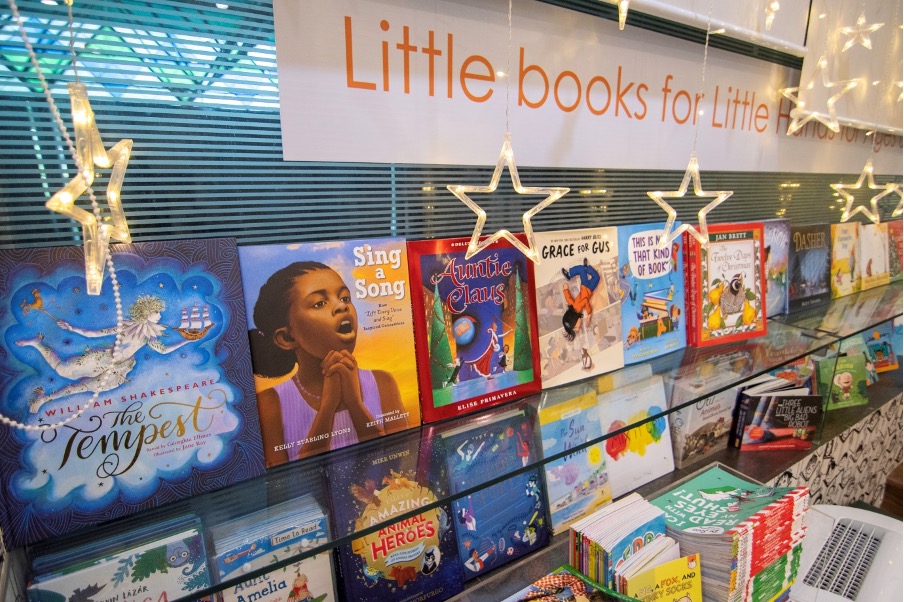 FAVOURITE SECTION OF THE STORE
My picture book selection and my middle school reads along with my graphic novel sections is my favorite section.
ONE UP'S FAVOURITE REGULAR!
My dearest friend Yashna, who will make sure her home library is ever expanding with One Up's recommendations, and her two young children are read aloud at breakfast, lunch and dinner.
Are you doing something different to reach customers during this strange time with coronavirus affecting accessibility and sales?
Our first duty and challenge was to ensure that our library could serve its members in such crisis. For library members we started curb-side pick up from 20th May under rigorous sanitization policies and minimum contact.
Book store operates through good- will of patrons through virtual selections and zoom meetings with our customers. We have not moved our book store operations online as yet. It is still personalized and individualized services for us.
Our organization is only women environment as a choice, it has been insightful to witness how much we all can multi-task and unite during hardships.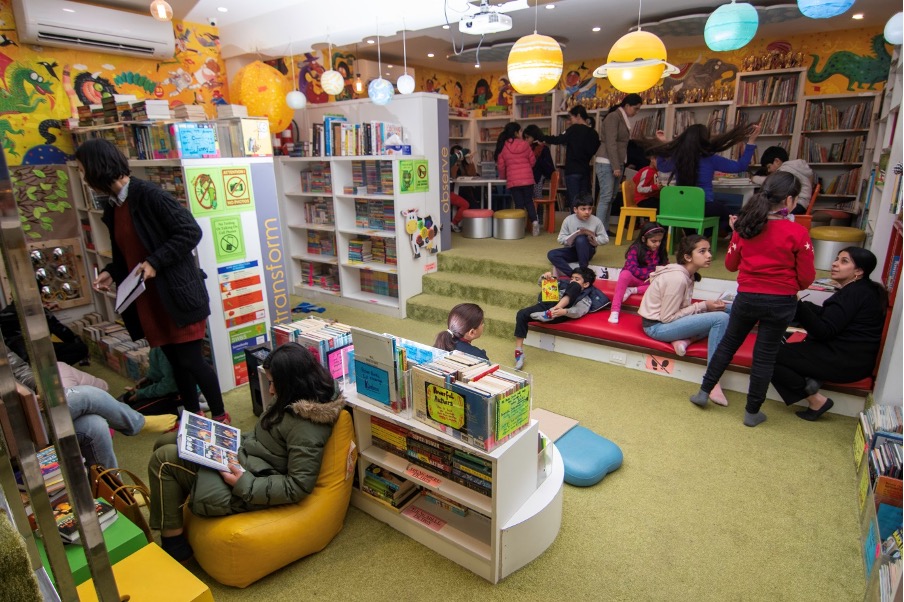 THE STORY BEHIND THE STORE!
Our story is simple – love for books and offering personalized experiences with books.
I grew on a rich diet of books and in my life one thing has been constant my love – affair with books. With my rich toolbox of training from Harvard Graduate School of Education and Teachers Reading and Writing College, at Columbia University, she extends her learning towards procuring books and nurturing readers at One Up.
For me, One Up bookstore & library is a living breathing organism. Every book is an opportunity to listen and celebrate new ideas. We match conversation partners with the book and reader. Our procurement follows and intense selection criteria based on a rubric for assessing book on plot – character- language and theme. We believe that every book at One Up will find its rightful home with its reader.
One Up
A-12, Vasant Vihar, New Delhi -110057
Landline: 011-49506305
Email: [email protected]
What's the furthest you've made a book travel to reach a reader?
Chennai and Trichur are two places my books have traveled farthest.
Are you open for business at the moment?
Yes, 10:30am to 5:00pm by virtual zoom appointments and books are picked up at curbside or couriered on patrons request.
All the images here have been provided by One Up, Delhi