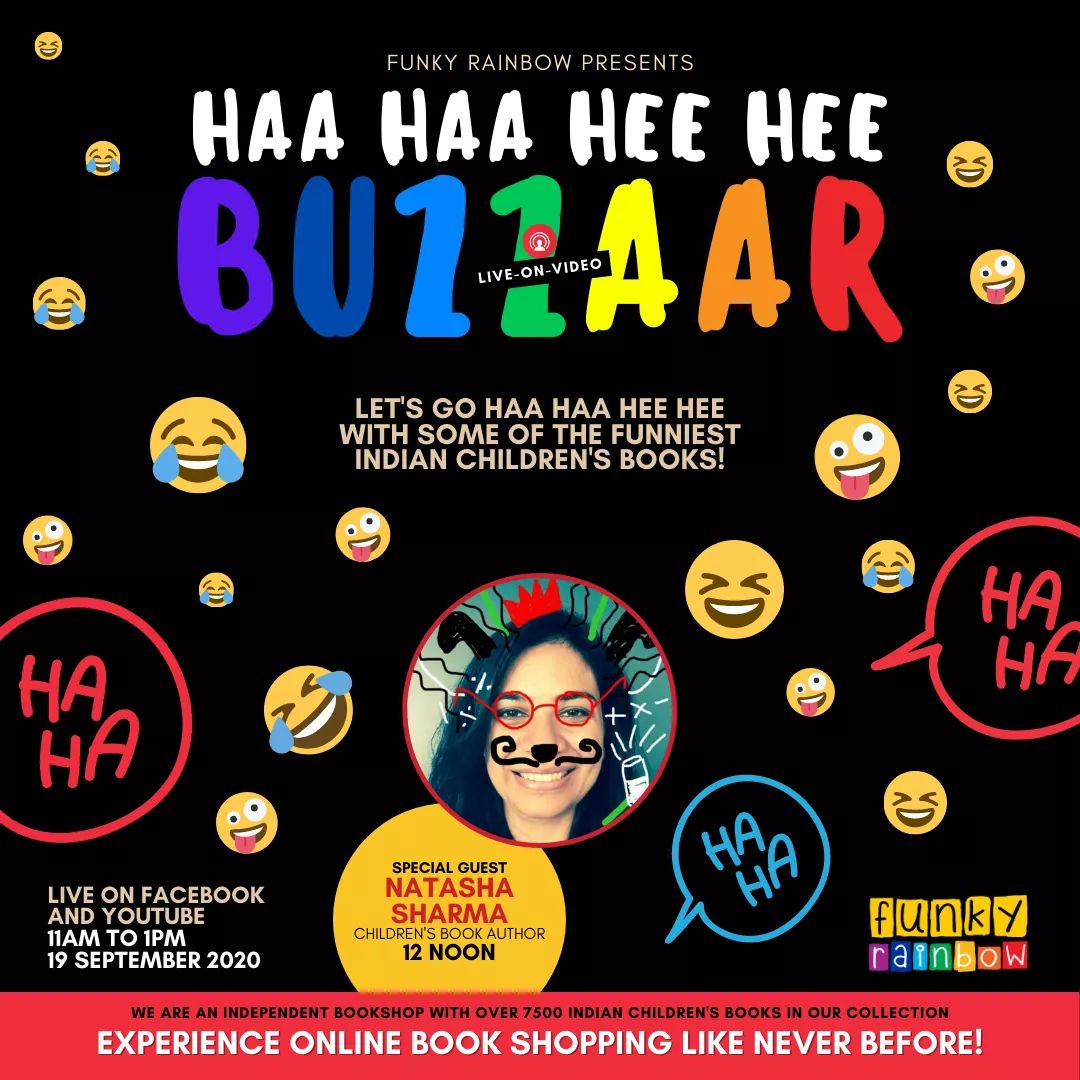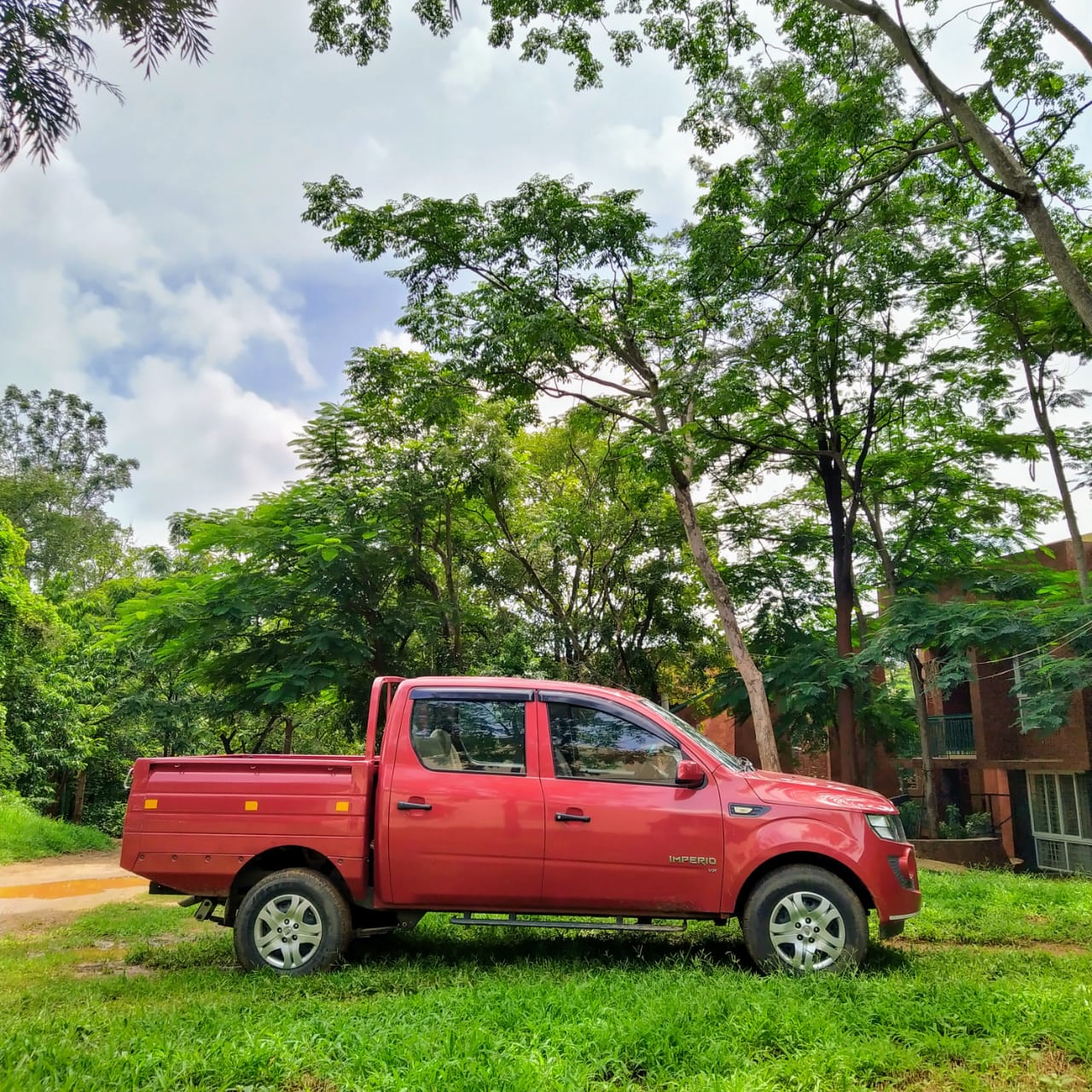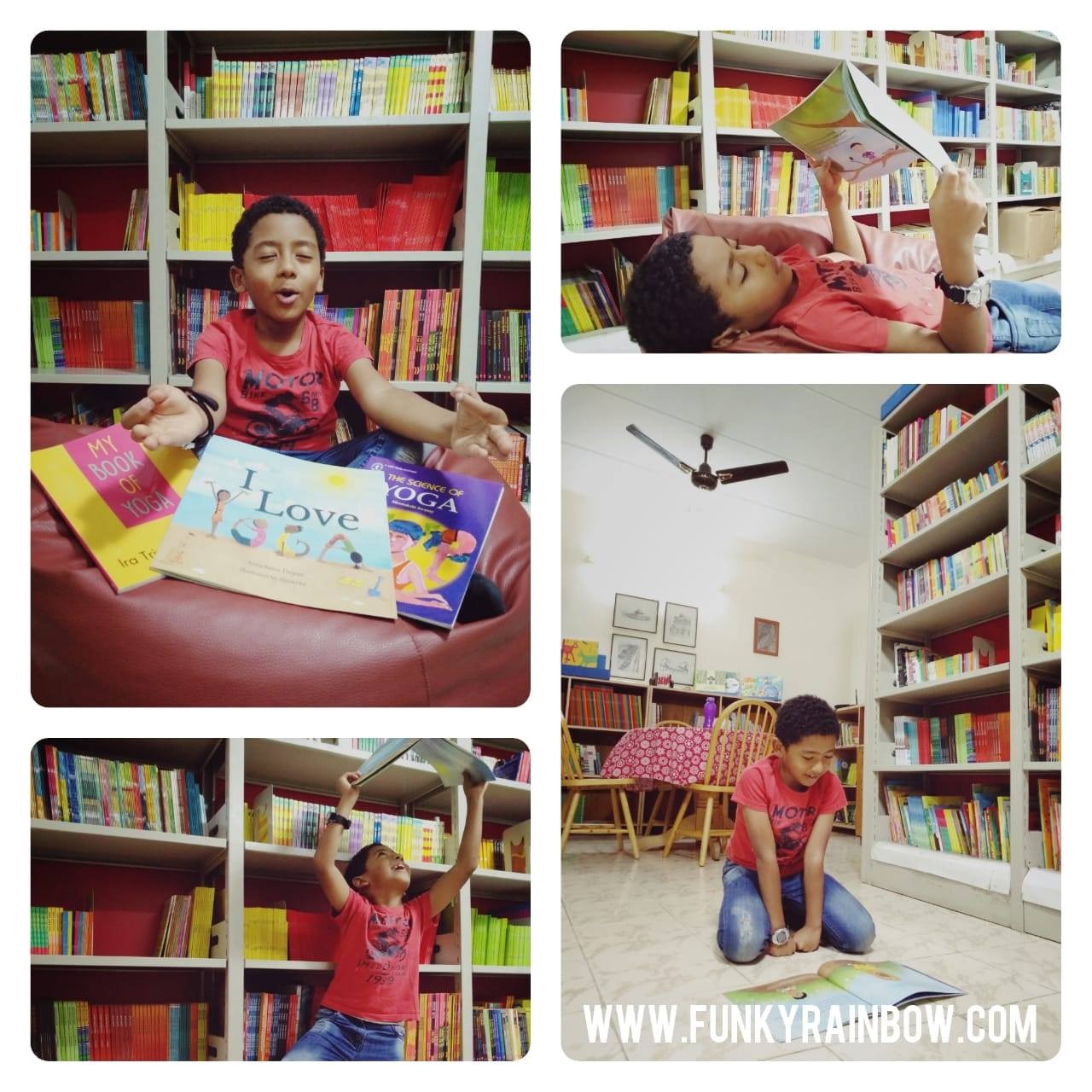 FUNKY RAINBOW AND ME!
I met Vidya and Shyam for the first time at one of the children's lit fests many moons ago and experienced the joy of Funky Rainbow first hand in a trip to Bangalore where I read Princess Easy Pleasy in a session organised by them. It was memorable to see the excitement of school children sifting through boxes and boxes of books! With the pandemic bringing unanticipated changes, I am utterly amazed by their unique Book Buzzaar idea and how smoothly it is executed. I was delighted to be invited as a speaker for their Buzzaar on humorous stories and loved every minute of it!
WHAT MAKES FUNKY RAINBOW PARTICULARLY FUNKY! 
Funky Rainbow (www.funkyrainbow.com) is a travelling children's bookshop and book consultancy run by children's writers, illustrators, and creative professionals with the aim of introducing books to young audiences. Our books are handpicked and curated for children in the age-group of 1-18 years and represent the best of Indian children's writing. The bookstore carries a mix of both fiction and non-fiction titles that are not easily available in mainstream bookstores.
Two things make us funky! One, the fact that we're a travelling bookshop, which means we have a big little book truck into which we bundle ourselves and tubs full of colourful children's books and go here, there, everywhere (in Bangalore and other parts of India). We do events in schools, libraries, public spaces, parks, and make exciting connections between books and readers. Pre-Covid, we would travel almost every weekend to lit fests, environment melas, craft fairs, sustainable living santhes, save-the-lake campaigns, pet carnivals, food fests and more, hoping to find newer and newer readers as we go along. Happily for us, we always do!
Two, we have a special focus on Indian children's books, and have over 7500 of them in our colourful collection from 100+ publishers and imprints (in English and many Indian languages). We believe books by Indian creators work well for children in terms of connections, discoveries, and experiences.
GET TO KNOW FUNKY RAINBOW, BETWEEN THE PAGES!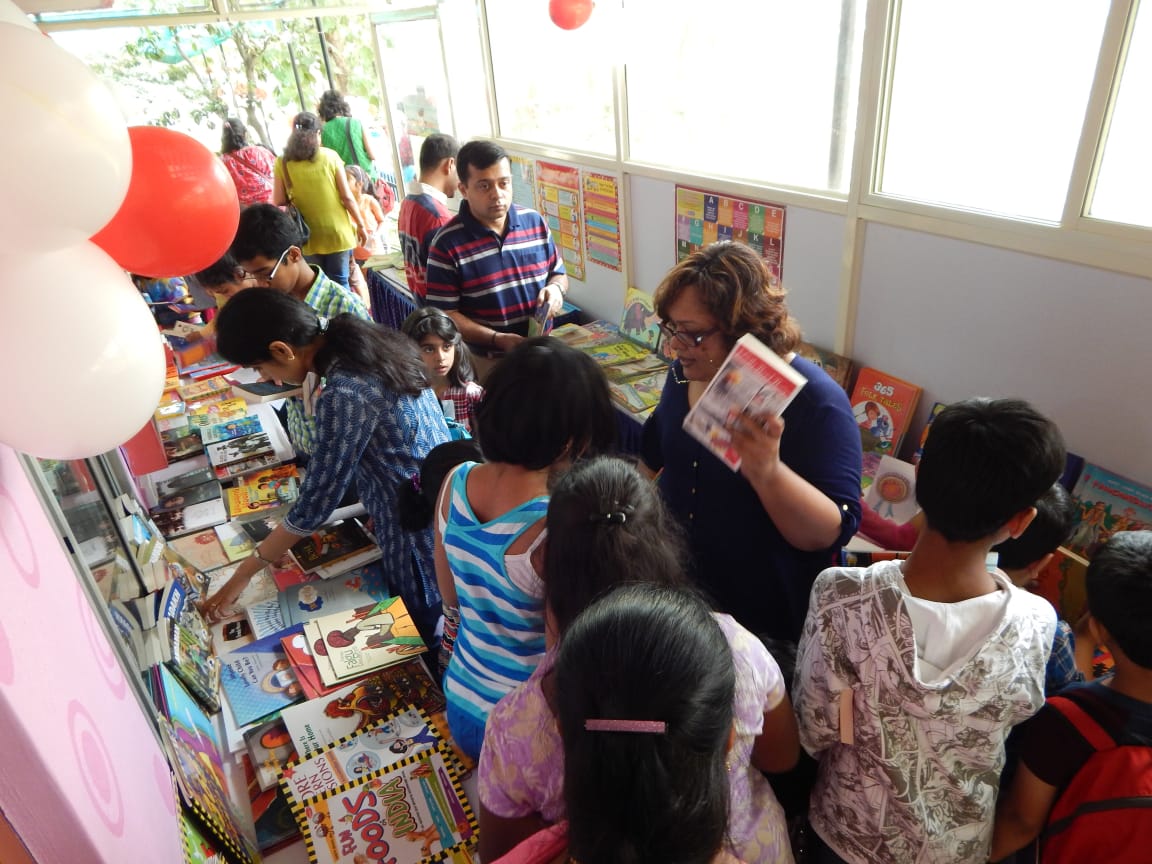 Your favourite section of the store
Where the young things are!
What's the toughest request for a book that you've had from a customer?
Give me an Indian children's book that's as good as a Western one – a challenge we love to rise to every single time!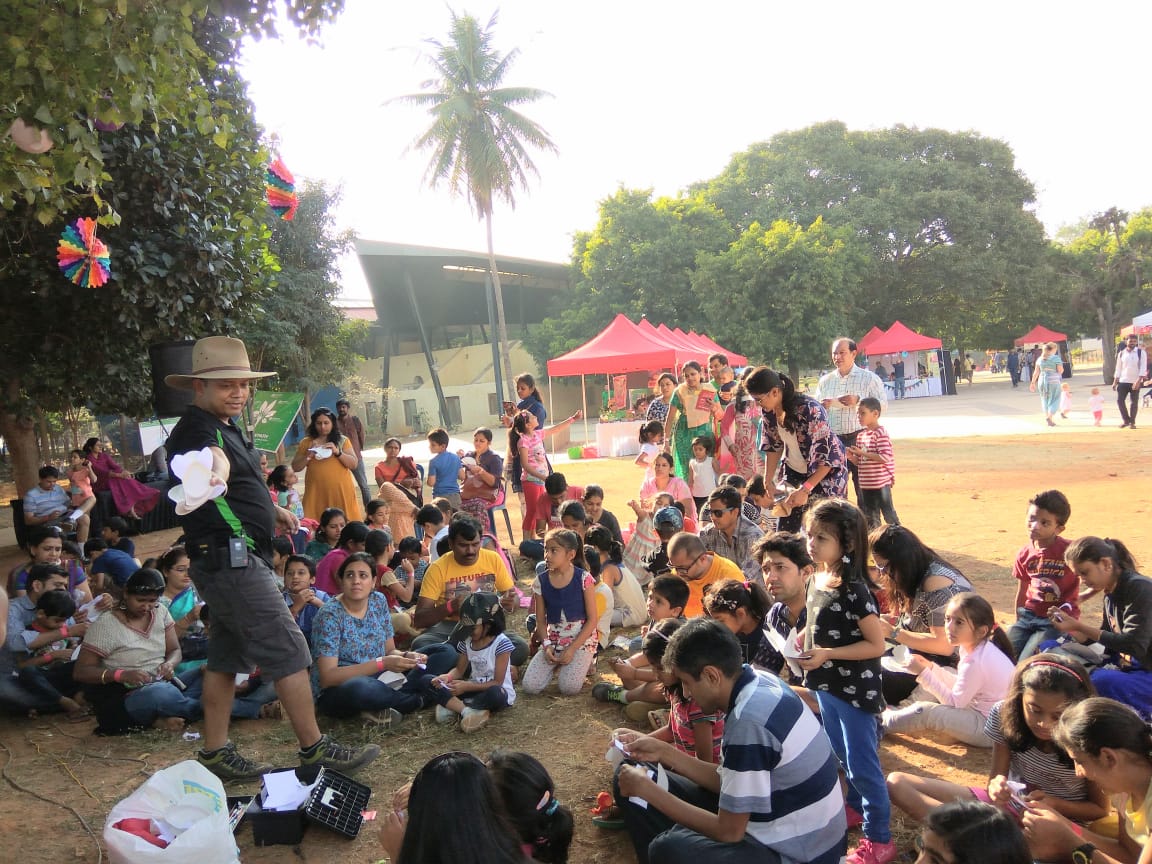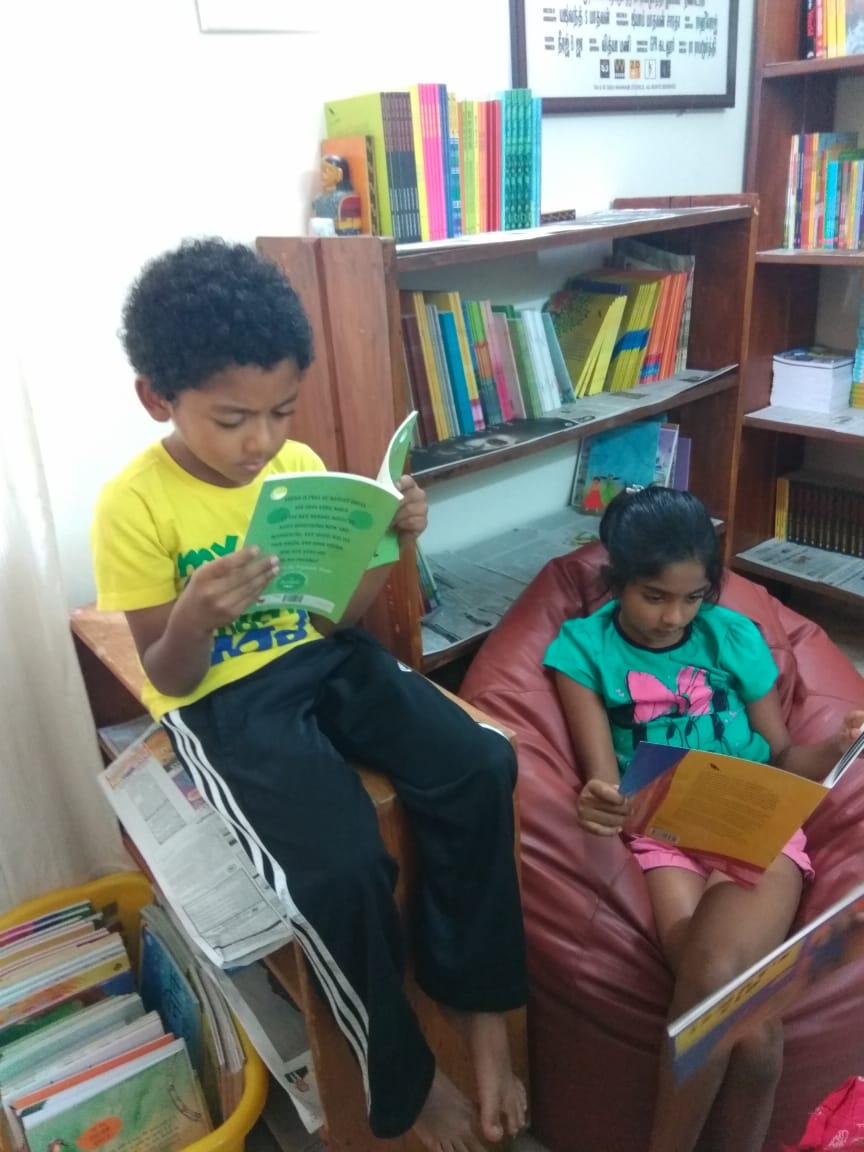 ONE UNEXPECTED SURPRISE THAT COMES FROM RUNNING A BOOKSTORE
The ability to spot a bookworm from miles away!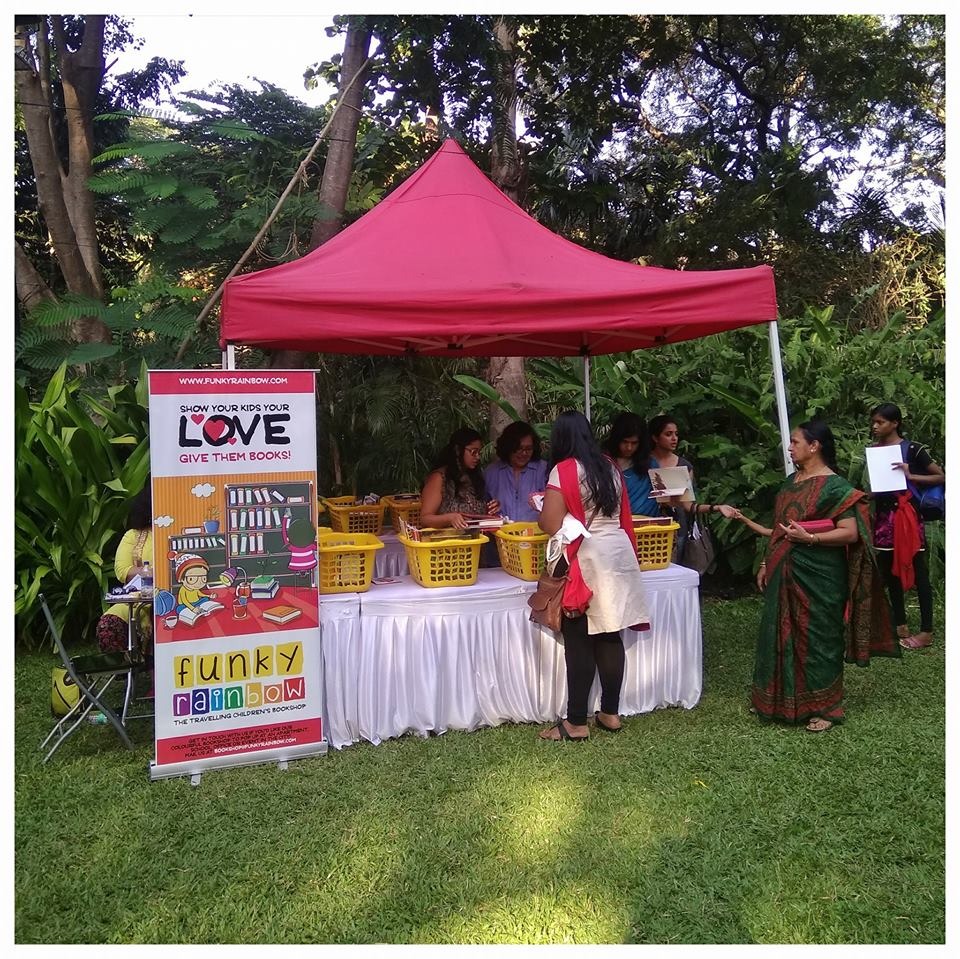 A BOOKSTORE MOMENT THAT MADE US WANT TO HUG OURSELF WITH JOY!
We are a travelling bookshop, so there are events we pop up at regularly in our city. The last time we were at a save-the-lake festival (which we have been going to every year for three years now), several children and adults were already eagerly waiting for us at the entrance! At this was at 6:30AM! They not just helped us unload our colourful crates from our book truck but also helped themselves to books even before we set up!
A NEVER-DO-THIS-IN-A-BOOKSTORE PIECE OF ADVICE
Never bring in sticky fingers and stuffy morals, please!
TOP 5 FAVOURITE CHILDREN'S BOOKS IN STORE AT THE MOMENT
From the newest arrivals on our shelves: Gajapati Kalicha Kulicha, Gol Mol Bol, The Girl Who Stole an Elephant, Queen of Earth, Savitribai Phule and I
THE FUNKY RAINBOW FAVOURITE REGULAR!
Kitty, who majestically saunters in and out of our office, clambers up our shelves, and who we think sometimes approves and sometimes disapproves of our curation! She loves to litter right in our verandah, and we have fostered many little kitties among our books! In fact, one time, she literally gave birth to a litter right on Shyam's lap ?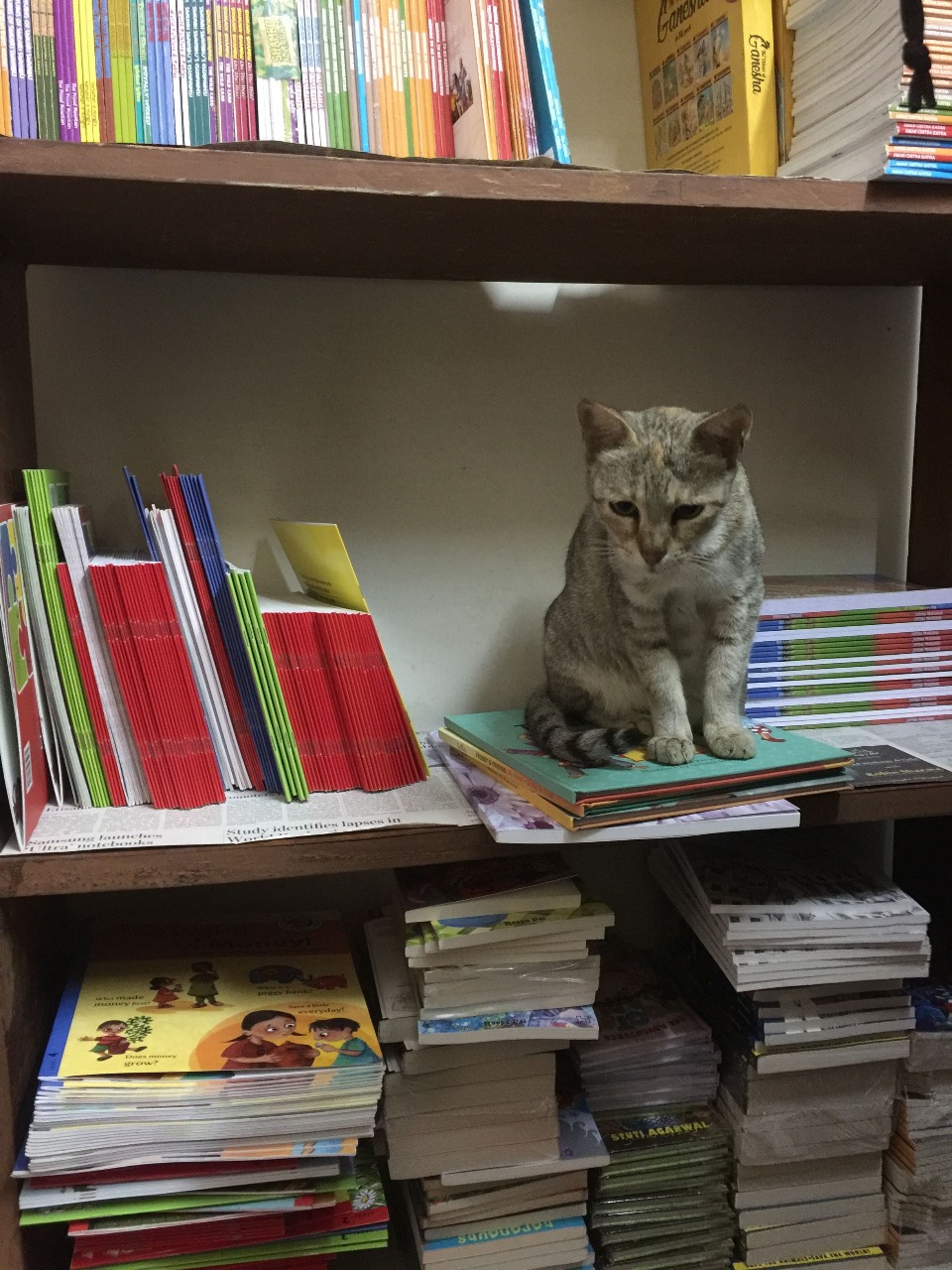 YOUR EARLIEST MEMORY OF VISITING A BOOKSTORE
For me (Vidya), it was getting on board a huge ship at Strand in Kolkata and discovering it was full of fabulous children's books (Russian)! For Shyam, it was the mobile library and bookstore in a bus from NBT that came to his school! What always amazed him was how the steps folded out for children to climb in! For Muthamma, it is her visit to MV Doulos, which was perhaps the world's only floating bookshop at the time (in the 80s), docked in the channel right behind her school! Evidently, the idea of a travelling bookshop took seed way back in time for each one of us! And one day, Funky Rainbow will travel across the world, spreading the love of Indian children's books.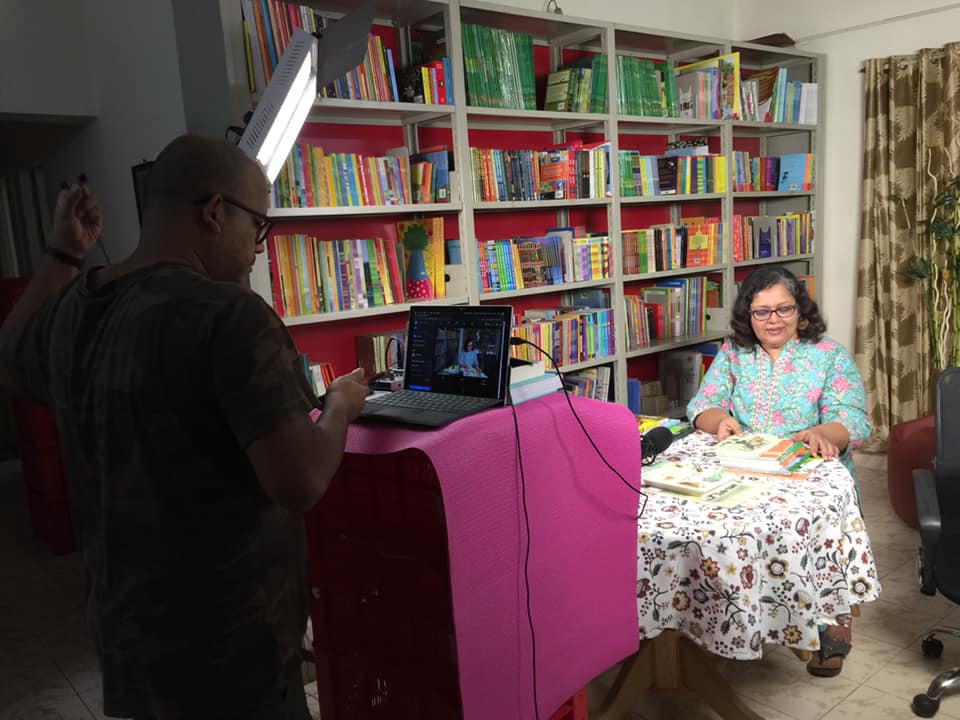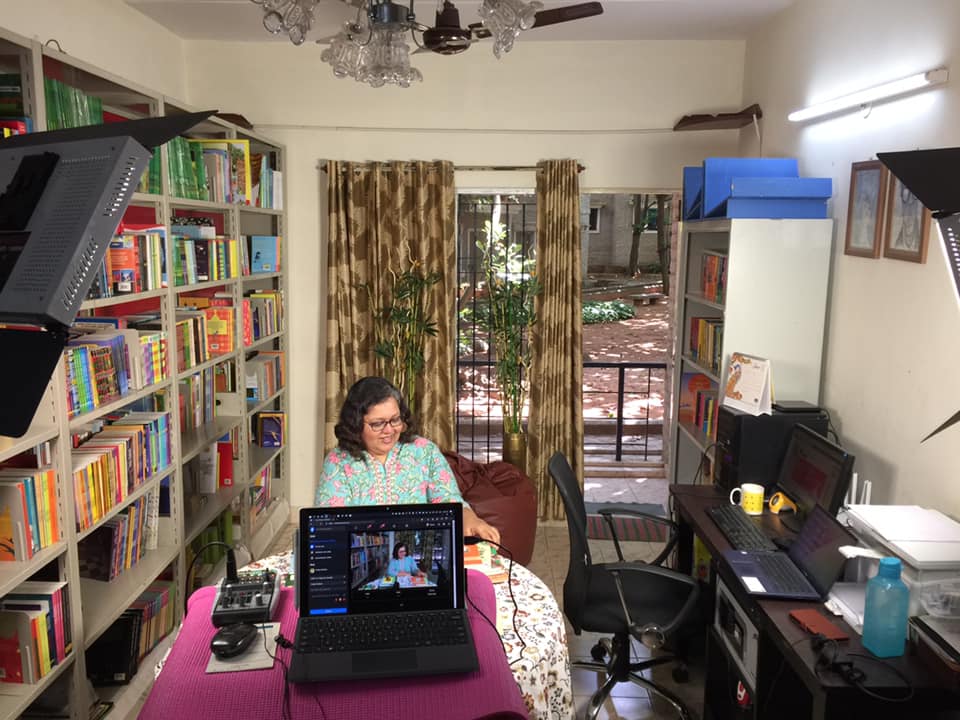 HAS THE COVID PANDEMIC MADE YOU DO THINGS DIFFERENTLY?
One of Funky Rainbow's latest offerings, designed specifically to deal with the challenges posed by the pandemic, is the Book Buzzaar. This is a first-of-its-kind online book shopping experience where we showcase a wide range of books from our curated collection – live on video! The idea behind the Book Buzzaar is quite simple. We wanted to bring people to our bookshop to browse through our curated collection without them having to come all the way, so we thought up a unique work-around – people could visit us live on video! So, we hosted a live book show in May 2020 on our social media channels where people could ask for recommendations by commenting on the post. We responded to the comments by pulling out books from our shelves and making personalised recommendations immediately. After the huge success of our first episode, we have now made the Book Buzzaar a weekly affair every Saturday (11am to 1pm). We have done both generic and specific theme-based buzzaars – for instance, picture book buzzaar, chapter book buzzaar, green buzzaar (focussing on books on nature and the environment), creature feature buzzaar (to celebrate world animal day and world wildlife week), etc.
THE STORY BEHIND THE STORE!
Well, as a team of writers and illustrators ourselves, we realised that most children and adults pretty much don't know of the wide range of Indian children's that are available. So, three of us (Vidya Mani, Shyam Madhavan Sarada and Muthamma B. Devaya) decided to come together in 2013 to set up a bookclub-cum-bookshop, so we could showcase a curated collection of Indian children's books and introduce their creators to young audiences here, there, everywhere!
We were sure right from when we started that we would be a travelling bookshop. We don't wait for children and adults to come to us – instead, we go to them with a colourful collection of children's and young adult books ?In our 7-year journey, we have really taken books to places where people do not conventionally expect books to be, and have helped children and adults make exciting connections with them.
The team at FR: Vidya Mani, Shyam Madhavan Sarada, Muthamma B Devaya, Bharathi Narayan, Sujitha Krishnamoorthy (in order of the photos below).
Funky Rainbow
12B/2 Nandi Gardens Phase 2 JP Nagar 9th Phase Bangalore 560108 Phone: +91-9900495665 Email: [email protected]

Website: www.funkyrainbow.com
Facebook: facebook.com/thefunkyrainbow
Twitter: @thefunkyrainbow
Instagram: @travelling_bookshop
What's the furthest you've made a book travel to reach a reader?
We have travelled ourselves to the Northeast, to Meghalya specifically, with our colourful collection of books. That said, our books have travelled to every continent in the world, except Antarctica.
Are you open for business at the moment?
We are open 10.30am to 7.30pm Monday to Saturday
All the images here have been provided by Funky Rainbow