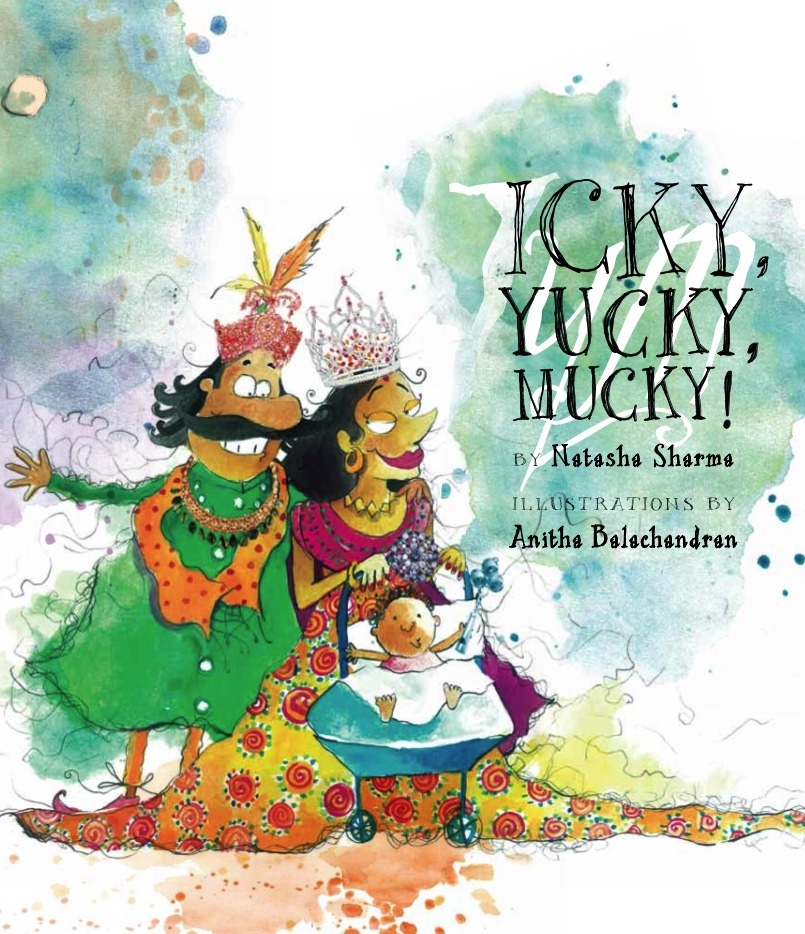 Icky, Yucky, Mucky
By Natasha Sharma
Voted to the Top 3 in the RivoKids Parent and Kids Choice Award 2014. Listed in Karadi Tales list of the Top 12 books of 2011.
Maharaja Icky is quite the most disgusting King you'll ever have the misfortune to meet.
The ruler of the kingdom of Ickhtarpur regales all with his utterly vile table manners. While he sits licking curry from hand to elbow and juggling rosogullas, his beloved nail-nibbling queen Maharani Yucky, joins him.
The deliciously gooey tale of Icky, Yucky, Mucky! with gleefully gross illustrations by highly acclaimed children's illustrator Anitha Balachandran, will have children squirming in their chairs and yelling with delight. And perhaps, learning a lesson or two in table manners!
Buy the book:
Support your neighbourhood bookseller! Call them now!
Young Zubaan (2011)
ISBN: 978-81-89884-96-3
"Every page in the book lends to a dramatic reading, and for any child, especially one that belongs to a family like mine, where daily entertainment is provided for through stories exactly like these, it's a dream-come-true.
Natasha Sharma has used just the right amount of goo, without letting just that take over the story, and Anita Balachandran has provided us with some scrumptious illustrations, my favourite being the one of the beautiful princess in her royal finery sitting next to a pile of neatly chewed nails!
If only every prince-meet-princess tale could break all notions of propriety and tradition and become about something else altogether!"
"Icky, Yucky, Mucky, as the name suggests, is truly one of the most disgusting books I've ever had the privilege of reading to my children. Goo, poo, snot and projectile rosogullas are just the tip of the iceberg. The book certainly does not let the title down.
Author Natasha Sharma has her finger on the pulse of young readers and it is roll on the floor-and-laugh-out-loud and cringe-dramatically-at-each-page fun. In a world full of social messages and sermons, this is one for the kids' side. It's almost *gulp* anti-establishment. Yes, it is nice to find books that help you deal with bullies or the death of a pet but every once in a while they should be given a break in favour of out and out icky-ness.
Anitha Balachandran needs no introduction and outdoes herself in this one as she did in Mister Jeejeebhoy. Fine details, doe-eyed princesses, mustachioed maharajas, snarky little captions peeking out of places and splotches all over. Simply fantastic…"
"Any child who has been pulled up for being messy is going to love this story. Dirt, grime and children somehow go hand in hand. Kids believe in the maxim, 'daag ache hote hain,' as in a popular TV advertisement. They love playing in muddy puddles, draw on walls and absolutely revel in dropping food on their clothes and on floors. Being messy comes to kids as naturally as breathing does to an adult… …Children are going to slurp it all up and revel in the whackiness of it all."
"The reading itself was characterized with tone modulation and generous gesturing to cause excitement amongst the children. What I loved most were the acoustics accompanying the narration. It elevated the entire experience from a mere book reading to a theatre experience for children."
Download an Icky, Yucky, Mucky