SQUIGGLE TAKES A WALK
By Natasha Sharma
Featured in Flipkart's Best Children's Books of 2014
Squiggle is confused. She doesn't know quite what she is! So she sets off through the pages of a notebook in search of answers.
Is she a comma or colon? A question mark? Surely not an exclamation!
Splash, run, bump, trip and swing with her until she finds her own kind. The book's delightful text introduces young readers to the correct way to use punctuation in this deliciously comic tale.
It also includes a section with pointers on punctuation, interesting facts from history and mayhem brought about by incorrect punctuation. Once you're through with Squiggle, you'll never misplace that comma again!
Buy the book:
Support your neighbourhood bookseller! Call them now!
Publisher: Young Zubaan/Penguin (2014)
ISBN: 9789383074013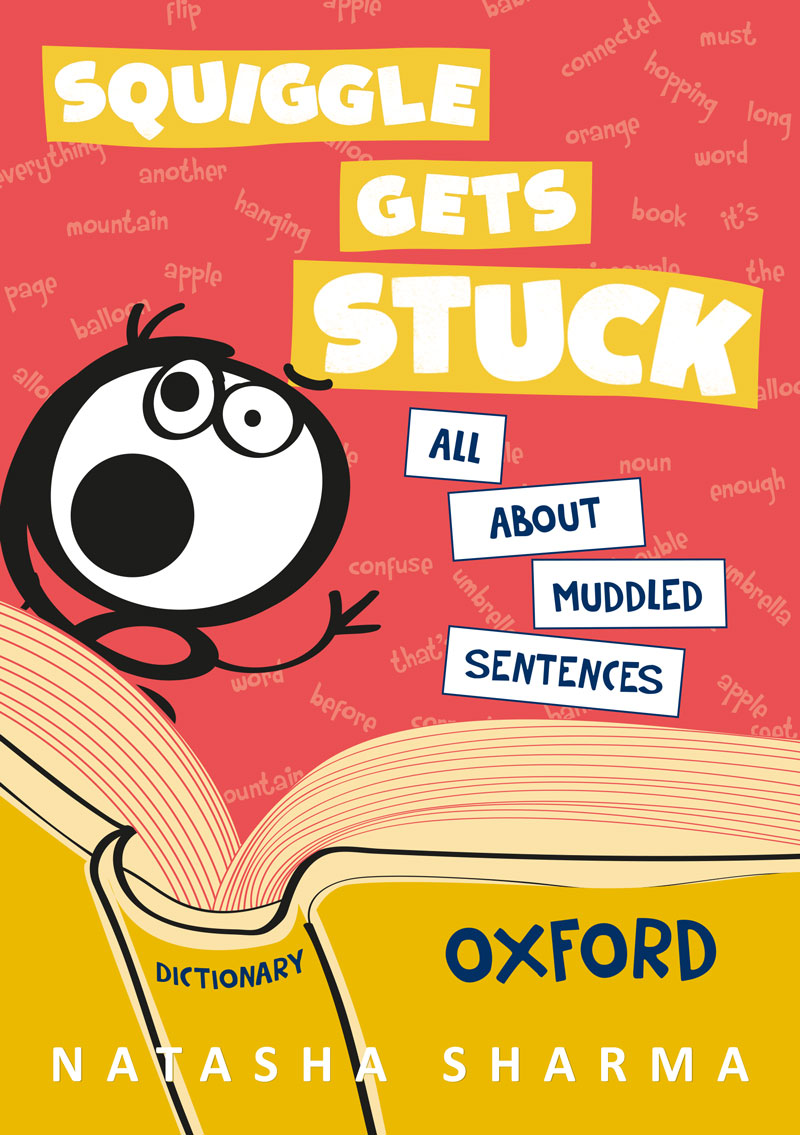 SQUIGGLE GETS STUCK – ALL ABOUT MUDDLED SENTENCES
By Natasha Sharma
Featured in Amazon's Memorable Books of 2016 list
Squiggle's stuck! She's fallen into a dictionary and can't escape.
The only way out is to create a grammatically correct sentence and use it to jump off the page.
She'd even got to rescue an very mixed-up character called Doodle Dude while helping him learn about verbs, nouns, prepositions and more such.
Can you help them build a getaway sentence?
This new adventure follows on from Natasha's highly acclaimed Squiggle Takes A Walk, the best way to figure out the world of punctuation.
Buy the book:
Support your neighbourhood bookseller! Call them now!
Young Zubaan/ Penguin Randomhouse
ISBN: 978-93-847-5796-0
"Squiggle takes a walk is one of those miracle books that make grammar so much fun… this one is a keeper." "I was actually giggling like a 6 year old with pigtails as I was reading this."
"If I were ever to learn punctuations in school all over again, THIS is the book I would love to use." "Who would have thought that punctuations can be so interesting and can actually be a part of a story. This is how punctuations should be taught to children in school and I will bet, no kid will ever make a mistake with punctuations ever."
'Three cheers for having used the familiar plot of "a character on a quest" in a tangential theme of teaching the use of punctuations. Thinking out of the box!'
Throw your own Squiggle's Punctuation Party with our party kit!