There is something about dedications in books. Even before I published a book, I never skipped reading the dedications that start off a book. It is that little glimpse into the author's emotions, thought process… their voice – a glimpse into their real life, possibly.
Authors write dedications related to the encouragement and support that the concerned person has provided in the writer's life, possibly been a source of inspiration. It could be a wish that something conveyed in the book comes true in turn for the people the book is dedicated to. An expression of love, respect, acknowledgement in the writer's most precious currency – words.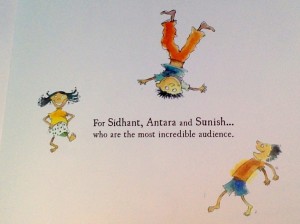 Every dedication that I put in, means a lot to me. I like to connect the content of the book, to the person I am dedicating it to … well, in most cases other than in my first book, Icky, Yucky, Mucky!. The dedication, to Sidhant, Antara and Sunish is for their encouragement to my writing and their tolerance for hearing the same story over and over again, in its many forms. It wasn't inspired by them (just making sure we are quite clear, given the content of the story).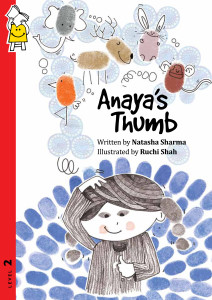 However, what does one do when a story such as Anaya's Thumb is indeed inspired by one of my offspring? It becomes a rather delicate matter. Do I say, 'For ______ for inspiring me with your lip sucking? May you stop soon!' or 'For _________. I've tried everything! I've even written a book on it! NOW STOP!'?
I thought it best instead, to include a lip sucking hippo calf in the story and dedicate the book to all little children who struggle to let go of their thumb, finger, lip or toe. 😉
Here are a few dedications, many of which are wonderful.
http://thoughtcatalog.com/christine-stockton/2013/09/amazing-book-dedications/
Then there is what Wodehouse, whose books have given me many a stitch, wrote for his book, Bertie Wooster Sees It Through:
http://www.bpsbooks.com/BPS-Books-blog/bid/109450/How-to-Write-a-Dedication-A-Few-Pointers
And then there are some days when this says it all:
Mark Twain, 'Adventures of Huckleberry Finn'
Persons attempting to find a motive in this narrative will be prosecuted; persons attempting to find a moral in it will be banished; persons attempting to find a plot in it will be shot.
BY ORDER OF THE AUTHOR.