In 2010 I wrote a bunch of poems, collectively titled Tadpoles On My Toes and Other Experiences of a City-fied Kid. My first book Icky, Yucky, Mucky! wasn't even published back then. The collection of poems centres around the thoughts, experiences and interactions with the world for a child growing up in urban India. It grew to close to eighty poems and I hoped and prayed that someone would turn the lot into a book.
It hasn't happened so far.
I'd started off with the knowledge that publishing poetry can be notoriously difficult. But that's the thing about being a writer. You have to write what you want to and often need to. You have to get the thoughts out of your system and onto paper. You hope that it will all come together and turn into a book. Sometimes, it works out. Other times, it doesn't. While you hold onto the hope that a publisher will love what you've written, that it will fit in with their publishing direction and list, that publishing poetry will really not be as difficult as you are given to believe, you have to keep writing alongside. You don't wait for your piece to get signed on before moving on to writing the next thing. You especially don't stop writing if a piece doesn't make it into a book.
I filed away Tadpoles On My Toes and got on with putting pen to paper/fingertips to keys. Ever so often, I opened up the file and tweaked a word here, a line there.
Five years and eleven books later, two poems from that collection titled Mosquito (originally termed Machchar) and Town Mouse, Country Mouse, have been published in two Collins English course books.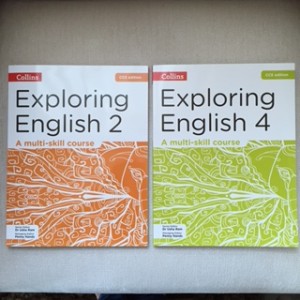 I just received copies. Apart from my utter joy at seeing the poems in print, it was a bit startling to see them accompanied by a set of questions, asking the children to analyse the belief of the poet, the feelings of the narrator and to use Mosquito as inspiration to create their own poem based on an animal sound among other interesting activities. I'd never thought of how people would process this! Feels quite exciting and I wish there was a way to read their answers!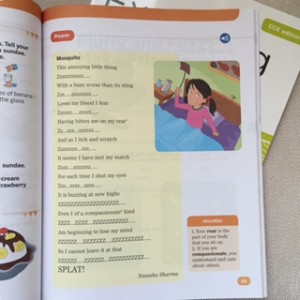 You never know where your writing takes you and where it is headed. I try and remember that it's the process that is the most important and to always stay positive (which is not my natural state of being, so tremendous effort here).
And I still hold onto the hope that most of the eighty will appear somewhere or the other someday, even as I write my next story.
(Another of Natasha's poems from her collection, A Roti's Grudge is scheduled to appear in an anthology.)