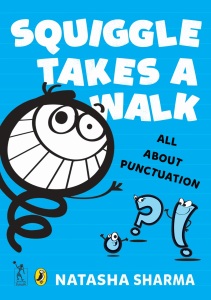 My kids took all of nine months. Squiggle was four years in the making.
From sleepless nights with a fuzzy idea about what I wanted to write, to not quite knowing how.
From sheafs of paper lying crumpled on the floor, to post-its that got shuffled around each day.
From holding on to her, nervous about her first view, to Anita Roy at Zubaan Books writing back:
"I LOVE SQUIGGLE.
It made me giggle.
Let's do it!
Exclamation mark!"
From us knowing what she needs as her playground, to finding Vikram Nandwani, the fabulous illustrator who brought her to life.
From draft after draft after draft while gazing at her adoringly (and often through gritted teeth) through all her teething troubles, to her blossoming into all her loveliness.
From spending hours poring over her at the Zubaan office, to Niyati and all the other wonderful folks at Penguin joining the joyride and helping her zoom her way into this world.
Squiggle, I love being your mommy! Go make the world a little more squiggly and punctuation friendly!
Natasha Sharma is currently back to sleepless nights with a fuzzy idea for the next book with Squiggle.